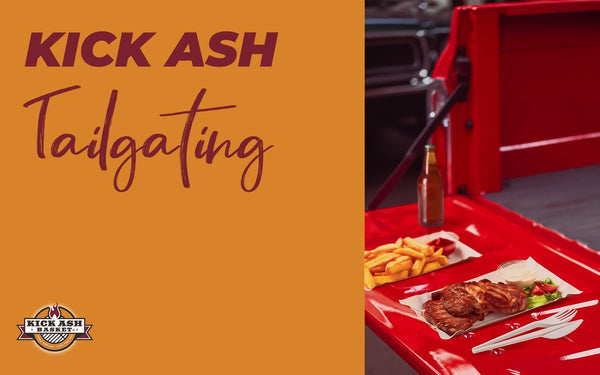 Kick Ash Tailgating
It's time to kick off your tailgate party and you've got everything you need for the ultimate tailgating experience: a portable charcoal grill, ingredients for your famous kabobs, a well-stocked cooler, spirit wear, collapsible chairs, some tunes, and a fun group of friends. But have you figured out the easiest way to empty the hot used charcoal out of your grill before the big game starts? What about cooling the charcoal and the grill before you head home?
Kick Ash Basket® to the rescue
Some of the most popular portable charcoal grills on the market today include those made by Big Green Egg®, Kamado Joe®, and Weber. They produce that scrumptious, smoky flavor that propane grills just can't match. These charcoal grills come in compact sizes which make them ideal for travel, and honestly, we think they're fantastic products. However, their insides feature cast iron bottom fire grates that aren't exactly tailgate-friendly, especially when it comes to emptying charcoal or cooking food fast.
The Kick Ash Basket® makes grilling at events much easier and cuts down on cooling time and hassle. Instead of resting directly on the grill's bottom grate, the charcoal sits inside the Kick Ash Basket. The basket rests inside the grill, with or without the stock grate in place, providing just enough clearance to increase airflow for better lighting and quicker response to temperature adjustments. This allows your food to cook at higher temperatures and more evenly, for perfectly seared meals every time. The best feature for tailgating, however, is the basket's easy cleanup. You simply lift the light-weight basket out of the grill (using heat-resistant gloves and lifting tools) and pour the hot used charcoal into a bucket filled with water. This allows your coals to be extinguished quickly and safely, permitting your open grill to cool down faster.
Care to see just how easy it is? Watch our Portable Grill Cooling Video.
Compatible with the most popular portable charcoal grills
The Kick Ash Basket is constructed of heavy-duty stainless steel wire for years of repeated grilling use. It comes in a variety of styles and sizes to fit top-rated grills. For tailgating use, grill-specific baskets are available to fit the following travel-size grills:
Big Green Egg® MiniMax
Kamado Joe® Junior
Weber Smokey Joe®
Any other travel-size models?
Grill safety accessories not to overlook
Tailgate parties are an enjoyable tradition, but let's face it, they can get pretty boisterous with crowds of enthusiastic sports fans and concert-goers. Amidst all the excitement, some simple grill accessories will help keep you and your tailgaters safe. If you don't own them already, consider purchasing the following items to stay in control of the celebration:
10-gallon plastic bucket with lid – Pre-fill the bucket with water before you leave home and use it to cool down the hot used charcoal after grilling. Depending on where you tailgate, there may be a designated charcoal disposal area. By having a bucket with a lid, you can always take your cooled charcoal home with you.
Fire extinguisher – An important precaution that everyone should take, whether grilling at home or at an event.
Heat-resistant gloves – Perfect for fire lighting, charcoal arranging, and basket emptying. Check out Kick Ash Basket's heat-resistant gloves with a non-slip silicone grip.
Grate lifter – A safe and simple way to remove cooking grates from the grill and hang them out of the way. Lift your grate the Kick Ash Basket way!
We hope to see you at a tailgating event soon! Until then Kick Ash Basket friends, Shake that Ash and Light that Fire!™