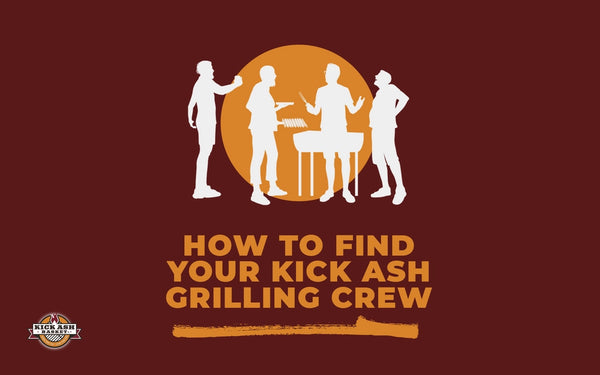 How to Find Your Kick Ash Grilling Crew
Are you brand new to barbecue? A skillful searer? Do you just love to grill, and think a backyard barbecue is the best way to spend a Saturday afternoon? Well, we have a treat for you!
How would you like to join the Kick Ash Crew? Imagine you and thousands of your closest grilling buddies meeting online to talk about your love of the grill. There's no judgment; you can talk up a storm about your favorite rubs, debate rare versus well done until the cows come home, or just hang out with like-minded grillers. 
Why Grilling Facebook Groups?
Where do you go when you have a question about what's going on in your local community? Which website do you turn to when you want to see what your family's up to, but don't necessarily want to call? Facebook, of course!
Now you can be a member of the Kick Ash Crew – the online family that won't ask you annoying personal questions. The Kick Ash Crew is a group of people just like you; grilling for your Crew isn't just a hobby, it's a passion. 
Grillers of all skills are welcome to join the Kick Ash Crew. Whether you're still wondering how to make the perfect burger patties, or are mastering the art of grilling lobster tails, you're a part of the family. 
What's different about the Kick Ash Crew? You may have noticed there are plenty of grilling forums on Facebook, but there's no real sense of community about them. You'll find stuffy instructions on how to clean your grill or how to start a charcoal grill, but it's hard to find a group of charcoal chums to kick back with; that's why we created the Kick Ash Crew. 

Who Can Join the Kick Ash Crew?
You can! Whether you're a man, a woman or a platypus, American, Bulgarian or Klingon, you're welcome to join the Kick Ash Crew. You can be 13 years old or 113 years old. All we ask is that you respect your fellow griller and that you promise to have fun!
Within the Kick Ash Crew Facebook group, you'll find friends who are vegan and pals who haven't touched broccoli in years. You'll find charcoal grillers, smokers, and campfire cookers. Some of your squad may even prefer their gas grill. But all the Kick Ash Crew have one thing in common: a love of grilling. 
If you're an experienced griller, the Kick Ash Crew Facebook group will be your home for new recipes, tips and tricks and an audience to listen to your grilling experiences. New to charcoal? You have a home here, too! You can chat with other newbies or more experienced grillers to hone your skills. 
Get the idea? All are welcome to join the Kick Ash Crew, a community of grill enthusiasts who have been brought together by kismet – or maybe just by the Kick Ash Basket. 
Why Choose the Kick Ash Crew?
If you've ever searched for new recipes to cook on the grill, you've likely stumbled upon some other grilling forums and "communities." But forums are so impersonal – a threaded conversation that's moderated by someone you've never met. You may feel like you can't always say what you want to say, and your messages get lost in the shuffle. 
The Kick Ash Crew Facebook Group is different. Your positive message, question, shared experience or even your pictures will be noticed; anyone and everyone can reply. You'll find readily accessible recipes, grilling competition announcements and grilling ideas from all around the world. 
Again, we simply ask that you be respectful to the other members of the Kick Ash Crew – we're all friends here! So long as everyone plays nice, nothing grilling-related is off limits. Post your questions and find a mentor or pass along your decades of grilling experience to the next generation of grillers. 

How to Join the Kick Ash Family
Why not come on over to the Kick Ash Crew Facebook group and see what others are talking about? Join the conversation, start your own, or just read along for a little until you feel like introducing yourself. 
What can you share with your new grilling family? Almost anything! We'd love to see your Kick Ash Basket in use, of course. But we're also excited about learning about your family traditions, your favorite recipes, and even your grilling mishaps. 
Do you have a recipe your grandpa passed down to you? Tell us about it! What's the secret ingredient you add to your steak rub? Tell us! Other ideas to get you started are:
Share photos of your outdoor grilling bbq kitchen.

Tell us about the most "unconventional" thing you've ever grilled… how did it turn out?

Brag about grilling or barbecue cooking competitions you've won.

Let us know how the Kick Ash Basket has made your grilling experience better or easier.

Share with us how you're passing down your love of grilling to your kids, nephews, nieces or other family members.

Just introduce yourself! We want to know where you're from, why you love grilling, and what brings you to the Kick Ash Crew!
Grow With Our Crew
We'd love for you to become a part of the Kick Ash Crew family. It's not necessary to have your own Kick Ash Basket to join, but it certainly helps! All you need is a love of grilling and a willingness to share your experiences with others who share that love. 
As our group grows, you'll find more and more information within the group, and we want this to be the biggest and best grilling community on the internet. Just visit our group and click the blue "join" button. We're looking forward to hearing all about your grilling experiences! 
Come say hello and post a picture of you using your Kick Ash Basket, or wearing your Kick Ash grilling t-shirt or other gear. We're excited to have you, and can't wait to grow our community with you!