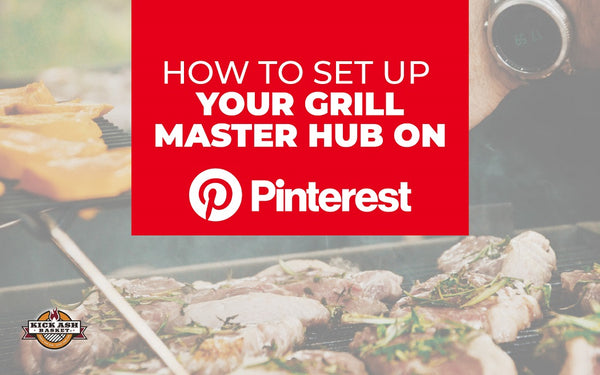 How to Set Up Your Grill Master Hub on Pinterest
As you are continually working on perfecting your grill skills, your pride and enthusiasm for the hobby should grow. Your friends and family praise you for those perfectly flavored ribs with just the right amount of sauce. Monday morning, they brag to their co-workers and classmates about the mouthwatering steak you grilled for them over the weekend.
Soon you are experimenting with other foods on the BBQ. Vegetables, fruits, bread, even pizzas are making their way onto the grill. You are now the Grill Master and sharing your recipes and expertise with your close friends and family isn't enough anymore. You're ready to share them with the world!  
The quickest and easiest way to share your grill master knowledge is through social media platforms such as Pinterest. Pinterest is now the third-largest social network in the United States, making it an ideal way to share your grilling recipes with other BBQ enthusiasts. Millions of people around the world every day search for Pinterest dinner recipes. What kinds of new and exciting grill dishes can you offer them?  
Many grill enthusiasts use Pinterest to share recipes, drive traffic to their BBQ blogs, sell grilling merchandise, and even promote grilling cookbooks. But how do you get started on Pinterest, and how can you be sure that the right audience sees your posts? 
How to Get Started Sharing Your Pinterest Dinner Recipes 
If you've never used Pinterest before, getting started might be intimidating, but that doesn't mean you should shy away from using the platform to share your wealth of grill knowledge. Once you initially get set up, posting BBQ Pinterest ideas will be a breeze. Here is a step-by-step look at how you can skillfully use this social media platform. 
1. Create a Pinterest Account 
To get your Grill Master Hub set up on Pinterest, you must start by creating a business account. Thankfully the process is pretty straightforward. Start by going to pinterest.com/business/create. There, you will be asked to enter your email and create a password. 
If you already have a personal Pinterest account, you can either 1) add a business profile to your account or 2) convert your personal account into a business account. 
To add a business profile to your existing personal account, you will need to: 
Login to your personal account.
Click the down arrow on the top right corner of your menu and click "settings." 
From the left-side navigation, click "Account settings." 
Below "account changes," click "get started" found next to "linked business account."
Click "create a linked business account." 
Follow the prompts: 
Edit your icon
Enter your business name
Add your website
Select your country/region
Select your language 
From the drop-down menu, select the focus of your business and click "next."
Select what type of business you are and click "next." 
Select whether or not you want to run ads. 
Start pinning, grow your audience, and showcase your brand!
To convert your personal account into a business account, you will need to: 
Log into your account.
Open your menu by clicking the down arrow icon on the top right corner of the page.
Click "settings."
Click "account settings."
Scroll until you see "account changes" and then select "convert account" and "continue." 
2. Connect Other Social Media Accounts
Are you already sharing your recipes and grilling techniques on Facebook, Instagram, or YouTube? When you connect these accounts to your Pinterest Business account, more people will be able to discover your expertise and share them with fellow grill masters.
3. Edit Your Profile 
To find your profile from the business hub dashboard, click the pencil icon next to your name. Pick a profile name that represents your grilling interests and mouthwatering skills. 
Next, add a profile picture that best represents your brand. It could be a photo of you grilling up your famous bbq chicken wings or a photo of one of your most popular dishes. Make sure your photo dimensions are 165 x 165 pixels. 
Here is also where you'll want to add keywords that will help fellow grill fanatics find you easily among millions of other pins. Some keywords might include: 
Grill Master
BBQ recipes
Grill recipes
Grilling techniques
My Pinterest recipes
Outdoor BBQ ideas
4. Claim Your Website
If you have a website showcasing your grilling talents, then click "claim" in the left-hand menu to claim your website. You will then be able to track your website's analytics and boost traffic to your site utilizing your pins. 
Pins linked to your website will include your profile photo, and a follow button inviting more followers and increased visibility of your Grill Master Hub. 
5. Create a Pinterest Board 
On your profile page, you will see a plus sign above "Create a Board." When you click it, you will be asked to add a descriptive title. You will then be able to find the board on your profile. When you do, click the pencil icon. 
Here is where you will add your descriptions. Be specific in your descriptions to help followers find your pins. You can add keyword phrases like "Pinterest dinner recipes," "BBQ ideas," "my Pinterest recipes," or "outdoor BBQ ideas."
You will then want to choose a category for your board. It will most likely be "food and drink," but in some cases, such as if you have a board for grilling techniques, you might want to choose "education."
Lastly, upload a relevant cover photo. Great photos are essential to a successful Pinterest business account because this social media platform focuses on visuals and aesthetics. Using a blurry or otherwise mediocre image will distract from your credibility as a grill guru. 
6. Create Your First Pin
By clicking the plus sign in the top right corner of your dashboard, you can create your first grill master pin. 
Add a title and description to each pin you create. Make sure you include relevant keywords and hashtags that define what you're pinning and why. They might consist of "bbq recipes for the weekend," "Pinterest dinner recipes," and "bbq Pinterest ideas." The right keywords and hashtags will drive potential followers to your board and your other social media outlets. 
Don't forget to include a destination link on your pin. For example, if you posted your latest BBQ recipe on your website and want to use Pinterest as a gateway for your followers to find that recipe, the link needs to correspond to the pin's content. Test it and make sure it's taking your followers where you intended. 
Include an image or video with each pin. Again, this is a highly visual-centered social media platform. Your pictures and videos need to be in a high-quality format. You can add text, as well as crop and trim your media with the pin editor. 
Finally, click publish and choose which of your Pinterest boards to pin it to. 
7. Make a Cover Photo for Your Profile
When you click the pencil icon above your profile page's image, Pinterest will automatically fill it with pictures from your pins or your boards. You can choose if board images or pin images are displayed. 
8. Add the Pinterest Tag to Your Website
Pinterest is a great way to advertise your brand. Whether you make money from the grilling content you post on your website, grilling master classes you offer, or from your eatery, adding a Pinterest tag to your website will help you track who visits your website and what they do on your site once they click on your pins. Monitoring this activity can help you make future adjustments to how and what you pin and ultimately improve business. 
How to Use Pinterest For Recipes
If you want to use the platform primarily for sharing Pinterest dinner recipes or BBQ Pinterest ideas, then you'll want to optimize how you pin recipes. If you are pinning original recipes, learn how to enable rich pins. Using a recipe card plugin will help. A rich pin includes the ratings of your recipe, the cooking time, and the ingredients. 
Make your recipes easy to find by creating different categories with your boards. For example, you might choose to have separate boards for various meats or different food categories such as vegetables or desserts. 
Tips For a Successful Grill Master Pinterest Hub
Create intriguing content.
Pin consistently.
Plan content according to the season.
Use your boards to connect with other pinners. 
Use high-ranking SEO keywords in your descriptions. 
Create action promoting content. Make it clear to your followers what you're offering and prompt them to watch your video, buy your book, or take your grilling class. 
Use shop tabs for pinners to easily purchase grilling equipment, cookbooks, or one-of-a-kind grill seasonings.
Use a scheduler. A scheduler automatically pins content to your boards at optimal times of the day when people are most likely to see them. Automating this step will give you more time for pursuing your grill craft and creating fantastic content your followers will love. 
Promoting your grill hub on Pinterest is an effective way of reaching a larger audience with your BBQ know-how and irresistible grill recipes. When you put time into setting up your account correctly and create share-worthy content, your website traffic will increase, you'll get more views on your videos, and make more sales on your merchandise. Most importantly, your skills and flavors will now be at the world's fingertips.