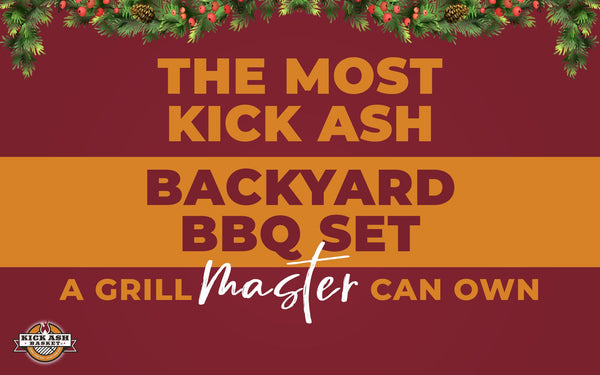 The Most Kick Ash Backyard BBQ Set a Grill Master Can Own
'Tis the season for grilling and giving! Even if you're reading this in the hot summer months, you may be looking for gifts for the grill master in your life, or for help decking out your own outdoor cooking space. 
We've put together the ultimate list of the most Kick Ash backyard BBQ tools and accessories a grill master can own. The Kick Ash team has spent years researching, testing, and developing grill gear that's guaranteed to make you the envy of the neighborhood. From Kick Ash Baskets to the Juniper BBQ Scraper, here's the 411 on all your favorite Kick Ash grilling essentials.
Table of Contents:
Kick Ash Basket

Kick Ash Can

Kick Ash Divider

Kick Ash Grate Lifter

Kick Ash Super Lifter

Kick Ash Gloves

JJ George Grill Torch

Juniper BBQ Scraper

Kick Ash Drip Pan
The Kick Ash Basket is our namesake for a reason, and we couldn't be more proud. Your Kick Ash Basket regulates the temperature of the coals, making for effortlessly even grilling every time you use it. It's made of electropolished stainless steel and ready to withstand years of heat and all the "life" you can throw at it. Plus, each Kick Ash Basket comes with a 3-year manufacturer's warranty. 
What makes the Kick Ash Basket so important to your backyard BBQ set? Well, first of all, your basket makes for super quick cleanup after your BBQ events. Just sift out excess ash and reserve what's left for a cleaner fire next time you grill. Since it extends the life of your charcoal, you'll also save money on charcoal along the way.
Most importantly, though, you'll love the difference in your aeration and temperature control when you use the Kick Ash Basket. The patented design allows your coals to breathe so you can grill over the best possible fire with the precision of a grill boss. 
It doesn't matter whether you've got a Big Green Egg, a Smokey Joe, or a thrift store tabletop grill; there's a Kick Ash Basket to fit your specific model charcoal grill. Kick Ash Baskets come in all shapes and sizes, and if you're shopping by grill and still can't seem to find the right fit, you can always email us at info@kickashbasket.com—we typically respond within 24 hours. 
2. Kick Ash Can
If you thought cleanup was easy with the Kick Ash Basket, wait until you get your Kick Ash Gloves on one of our Kick Ash Cans. Just put one of these babies under your Kick Ash Basket and you'll see what we mean. 
The Kick Ash Can is the right-hand man for the Kick Ash Basket. With this duo, you can clean your grill and get rid of messy ash without getting your hands dirty. Just lift out your Basket and set it aside, then remove your Can and toss those ashes—all of a sudden, you're ready to start grilling again with perfectly aerated coals. 
Just like the Kick Ash Basket, the Kick Ash Can comes in sizes to fit every grill; talk to our team if you need help finding the right can for your grill. 
The Kick Ash Divider is essential to your backyard BBQ set; this divider provides user-friendly temperature control for your cooking surface. You can literally sear your steak on one side of your grill while you're smoking deviled eggs on the other. 
We've got nine styles and sizes of Kick Ash Dividers, so no matter your grill size, you can enjoy two-zone cooking on your back porch. Your Divider is made from electropolished stainless steel and will last for years to come. 
The next tool you're going to need in your ultimate BBQ set is the Kick Ash Grate Lifter. We at Kick Ash Basket have one goal: to make your grilling experience hassle-free. The Kick Ash Grate Lifter is just another way we're listening to grillers' problems and solving them, one tool at a time. 
What's the point in having a mess-free way to clean your grill if you're going to get all greasy lifting the grate in the first place? The Kick Ash Grate Lifter makes it easy to just lift the grate and hang it grillside while you take care of business with your Kick Ash Basket and Can. It works with any grill grate with gaps of 1/4 inch or larger. 
Plus, the grate lifter and super lifter make it easy to keep hot BBQ components out of harm's way and even reserves high-value table space for other grilling and meal prep activities. 
Grilling on ceramic? We didn't forget about you. Our Kick Ash Super Lifter was designed to make your grilling experience easier by handling your ceramic plates for you. It's been load tested to handle up to 30 pounds, so if you have an extra large grill be sure to weigh your plates before ordering—two Kick Ash Super Lifters may be recommended, but one usually gets the job done. 
Now, as much research as we've put into keeping our grill masters' hands clean, there's really nothing that's going to do that like a good pair of gloves. Thankfully, we've got two!
For your charcoal-prep needs, we've got the Kick Ash Charcoal Prep Gloves. These guys are perfect for loading your chimney or cleaning out a cooled grill. They're not heat-resistant, so please don't be a 'dumb ash'—only use these on cool coals and grates. 
For hot jobs, use our Kick Ash Basket Heat-Resistant Gloves. These babies are temp tested up to 932 degrees Fahrenheit, so you can lift your Kick Ash Basket and Can while they're still piping hot with no issue at all. Your heat-resistant gloves are made with Aramid, the stuff that's used in the military. We think it's fair to say if it's good enough for our troops, it's good enough for your backyard BBQ. 
Are you still using matches to light your charcoal? Come on, get with the times—you need a Kick Ash grill torch to get that fire burning bright and even. The JJ George Grill Torch is a self-igniting lighter that doesn't require you to blow on your coals—making it easier for you and much safer, too!
The torch connects to a standard propane canister and is super portable. You can bring it to the neighborhood barbecue, on camping trips, or just around the house to burn poison ivy or melt your sidewalk ice. In other words, it's a BBQ tool that goes beyond the backyard, and essential to a grill master's Kick Ash BBQ set. 
Next on the list of the essential tools for your backyard BBQ set is the Juniper BBQ Scraper. You've emptied your ash and aerated your coals, and now it's time to clean those grill grates. Don't want to use harsh chemicals or plastic that can break off and burn off into your food? We don't either, so we partnered with Juniper BBQ Scraper for your grate-cleaning pleasure. 
The Juniper BBQ scraper is safer than harsh grill brushes on your grates, and it's eco-friendly, too. Your scraper is made from sustainably sourced tamarack which is super durable and easy to care for. Just oil this scraper down occasionally with a food-safe oil and it'll last you for years. 
The little tool is easy to use; just scrape it along your grill grates. Over time, the scraper will develop grooves that are the perfect fit for your grill—it's like having a cleaning tool that's customized to fit your grill. Just another Kick Ash product that's designed just for you. 
The last of the individual tools in your ultimate BBQ set is the Kick Ash Drip Pan. Say goodbye to tin-foil lined grills; our drip pan catches all the grease and charred bits so you can save your grill and save the planet (it's reusable!). The best part? This bad boy is dishwasher safe. Use a paper towel to wipe off the chunky stuff, then toss it in the dishwasher for a clean pan every time. 
The full, half, and 14-inch drip pans are all at least a foot across and over an inch deep, so they're big enough and custom-fitted for your grill to catch the drippings from burgers, roasts, or whatever else you dream up to grill. At the same time, they're conveniently sized to rinse in your kitchen sink or pop in the dishwasher without taking up precious real estate. 
Your Kick Ash Drip Pan is made from stainless steel so it won't rust, but note that it will tarnish a little with the heat. That's okay; your pan will last for years to come even if it's a little more golden than the first day you got it.
Bonus Item:
If you're looking for a gift for your favorite grill master this holiday season, or just want to treat yourself to a few Kick Ash products, check out the Kick Ash Basket Holiday Gift Bundle. This set includes a sharp Kick Ash branded tee, a few Kick Ash koozies and two of our ash-kickin' "Shake That" dry rubs to liven up your backyard barbecue. These gift bundles are going fast, so make sure you order today to get yours just in time for Christmas. 
Want to see what other grill masters are adding to their own backyard setup? Come on over to the Kick Ash Crew, a supportive, members-only community. In addition to a platform for bragging rights, the Kick Ash Crew gives you a place to find Crew-exclusive deals, recipes, tips and tricks, and more! Strike up a grilling conversation or share your favorite pictures; we can't wait to have you join the Kick Ash family!