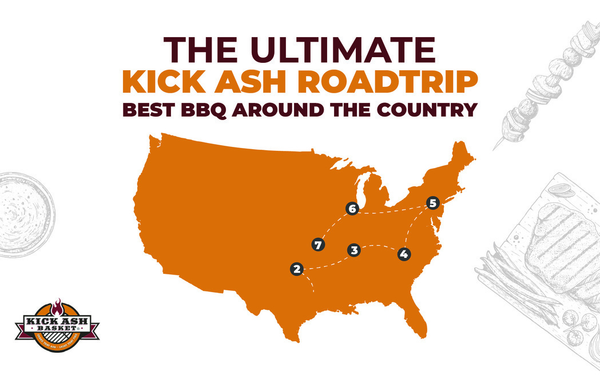 The Ultimate Kick Ash Roadtrip: Best BBQ Around the Country
Are you ready to travel? We are. For barbecue, that is. We've visited some of the best barbecue joints in the country and we want to share our Best BBQ List with you. From hole-in-the-wall barbecue shacks to upscale New York City restaurants, here are the restaurants you should visit on your Kick Ash Barbecue Road Trip. 
Contents:
Blood Bros. Barbecue, Bellaire, Texas

Cattleack BBQ, Farmers Branch, Texas

Cozy Corner BBQ, Memphis, Tennessee

Lexington Barbecue, Lexington, North Carolina

Hudson Smokehouse, Bronx, New York

Lem's Bar-B-Q, Chicago, Illinois

Gates BBQ, Kansas City, Missouri

Photo by Emerson Vieira on Unsplash
Deep in the heart of Texas – in Bellaire, that is – sits an unassuming barbecue joint that's arguably some of the best bbq in Texas. This little restaurant started as a pop-up joint but became so popular that Robin and Terry Wong, the brothers this joint was named after, opened a sit-down casual restaurant. 
What do people love so dearly about Blood Bros. Barbecue? Everything. The brothers serve up local meats from Texan farmers. Their own signature rubs that are both spicy and sweet. A history of tradition between two brothers. And, most of all, a deep rooted love for Texas barbecue and the Houston community. 
Want to try a rub similar to the Blood Bros. Barbecue flavors? Try the Kick Ash Sweet Mama Bold BBQ rub at your next backyard BBQ. 
If you're staying in Texas a while and want to explore the state, head north from Bellaire to the Fort Worth area. There, you'll find a little town called Farmers Branch, Texas. In Farmers Branch is a tiny barbecue shack that's only open a few hours each day, serving some of the best bbq in Fort Worth. Come to Cattleack Barbecue for lunch, then explore Fort Worth, or just drive the Texas countryside with a belly full of warm barbecue. 
What's on the menu at Cattleack? A beautiful mess of brisket, pork ribs, pulled pork and even barbecue turkey. Be sure to order some Burnt End Beans as a side, then finish your meal with Crack Cake – yes, it's just as addicting as it sounds. 

From Texas, let's travel east  for some of the best bbq in Memphis. After all, what's a barbecue road trip without a taste of the Southern classic? In Memphis sits Cozy Corner BBQ, a local favorite that's going to become yours, too. 
Cozy Corner BBQ is a Black-owned business, but that's most notable because of the pitmaster herself. When Raymond Robinsons, founder of Cozy Corner, passed away, his wife took his place. She was the first Black woman to earn an induction into the Barbecue Hall of Fame. Now that's barbecue done right!
The Cozy Corner BBQ menu includes plates, a la carte items and even bulk items. Locals recommend that you call ahead when placing bulk orders, but the wings and half-gallon sides will be well-worth the extra step for your next cookout. Try the Sweet Mama Original BBQ Rub on your wings for a taste of Memphis, TN barbecue at home. 
Let's drive from Tennessee to neighboring North Carolina, where you'll find some of the best barbecue in the country – even the world. Whether you like Eastern or Western style barbecue, it's no secret that North Carolinians pour pride into their meat, and that pride shines through at Lexington Barbecue.
Garden & Gun, Southern Living, USA Today and LocalEats have all recognized this smokehouse for the quality of meat and traditional BBQ style. The Lexington Barbecue menu is as Southern as it gets; you'll find chopped and sliced BBQ plates served with sides of hush puppies, pork skins and bbq beans. 
Lexington Barbecue serves the best bbq in North Carolina – the locals know it and because of its success the nation now does, too. 
The South is certainly known for its passion for barbecue, so probably don't think of Gotham City as a bbq destination. But you may change your mind when you travel north with us to the Bronx, NY. 
Hudson Smokehouse offers the best bbq in NYC, and its unique style is unlike anything you'll find in North Carolina, Memphis or Kansas City. Hudson Smokehouse believes in barbecue-served-big; expect to order at least a half pound of meat unless you want to try one of their delicious sandwiches. 
Choose from brisket, pork belly, turkey and other choices, then have your order plated with a side of cheesy potatoes, pickled onions or collard greens. On Saturdays, you can enjoy a beef rib or, if you like, a pastrami on rye. For dessert, you can't go wrong with a deep-fried PB&J.

Photo by Alexandru-Bogdan Ghita on Unsplash
Let's travel around the Great Lakes to Chicago, where you'll find Lem's Bar-B-Q. This restaurant began as a small venture between two Mississippi brothers in the 1950s, and blossomed into the local (and national) treasure that it is today. 
Because of their Southern roots, you can imagine that Lem's Que carries Southern traditions, too. But the cuisine has its own Chicago style, and you'll find smoked rib tips, chicken gizzards, center cut ribs and, of course, hot links on the menu. 
Lem's is the best bbq in Chicago, and you can visit them in the Chatham neighborhood of the city. After your meal, tour the Chatham historic district while you sip your carryout tea. 
Finally, no Kick Ash Barbecue Road Trip would be complete without a stop southwest of Chicago in Kansas City. Gates BBQ is famous for its burnt ends – or rather the fact that it never used to serve them. Four generations ago, founder George Gates refused to serve burnt meat. Now, because of demand, the restaurant is known for just that. 
Order your burnt tips and they'll be served on a hoagie roll. If you want something a little less fatty, try the slab, long-end or even the mutton entrée. Gates sells meat by the pound, too, so if you're out of your Sweet Mama Barbecue Rub and want the next best thing, order Gates for your next gathering. 
Sides are those traditionally served with the best bbq in Kansas City, like fries, potato salad and BBQ beans. For dessert, try the Yammer Pie or one of Gates's seasonal pies. Gates has six locations open around the Kansas City area, so if you're traveling to town, there's likely a restaurant near you. 
Make Your Kick Ash Road Trip Your Own
America is the barbecue world capital, and there's no way we could possibly include every fantastic restaurant in the country. Do you have a local favorite? Share it with the Kick Ash Crew on Facebook, and let us know what you love about your local pit.