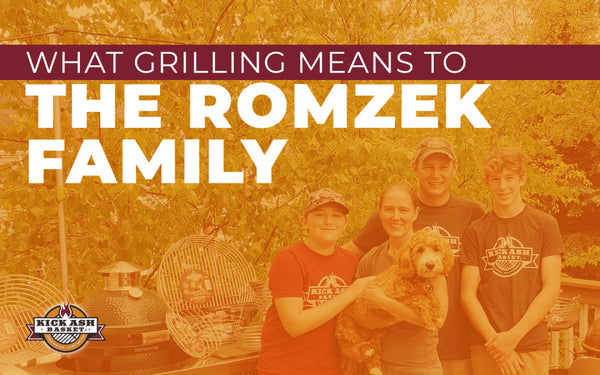 What Grilling Means to The Romzek Family
As you may have noticed, the Romzek family loves grilling. It's been a huge part of our lives for as long as I can remember, and our love for the craft was, obviously, the basis for founding Kick Ash Basket.
Over the past several months, we've all had time to reflect on what's important to us—the holiday season has that effect! Of course, family and loved ones come first; but there's plenty of love to go around, and so much of that love goes out to you, my Kick Ash BBQ family! It's almost Valentine's Day, and love is in the air. I wanted to take a minute to share a bit of family grilling love with you all.
With Grilling, You Know What You're Going To Get
Our world is filled with the unknown and unexpected! What grilling means to the Romzek family is that it takes away the unexpected. We always know what we are going to get from our backyard grill. By picking out the freshest and best ingredients, we know that we are undoubtedly going to get a great and delicious final product.
Of course, something that helps us to standardize the grilling experience is the use of our Kick Ash accessories, like our namesake product: The Kick Ash Basket. The Kick Ash Basket is a life saver for temperature regulation and coal aeration. This means that there are never any surprises (unevenly cooked meat, flare ups, etc.) when I lift up the lid. Plus, when I'm ready to start grilling, the Kick Ash Basket let's me shake that ash before I light that fire, saving time and hassle and reducing preparation time significantly.
Grilling Brings Our Family Together
There's nothing like preparing a meal for the ones you love. When the boys are home from school, it is a special treat to grill for them and gives them something they are definitely not getting in their school cafeteria.
It is also an amazing way to bring our extended family together. One of my favorite stories about my mother-in-law was when she told me after I had honed my BBQ skills that I had always been a catch, but now I had definitely become a keeper!
Grilling Makes Things Simple
Grilling to the Romzek family means simple and easy. All you have to do is shake some ash and light that fire, and you're pretty much ready to go. The basket makes it even easier and lets us cook for our family every night on the grill. It's great for busy families with young kids who have after-school activities. I still remember back in 2010 when we first started grilling regularly. It definitely made our home life easier.
Grilling Means Bringing The Grilling Community Together
Want to know what else grilling means to the Romzek family? It means bringing our community together. I'm still surprised by the number of friends who we've convinced to branch out and buy a grill. I can't even count the number of people who have bought their own ceramic grill after tasting our famous backyard brisket. I love helping my newbie friends discover the ins and outs of the Big Green Egg. I am working with one of my friends right now, helping him perfect all of his techniques.
We love community so much that we want YOU to join us too! So head over to Facebook and become a member of our Kick Ash Crew. We share crew-exclusive giveaways, deals, recipes, BBQ tips and tricks, stories, and Kick Ash lifestyle gems with no holds barred.
Grilling Is About Trying New Things
We love to learn and try new things. There is always room to experiment with new flavors and textures and discover new favorites. One of these, for me, is the mouth-watering reverse-seared steak. We have also recently started grinding our own sirloin for burgers, which has punched up the flavor even more with minimal additional effort.
Grilling Means Chicken Thighs You'll
Never
Forget
When people think about the perfect grilled meat, they often think about a juicy, sizzling steak. Another favorite for many is the chicken wing. But, one of the most underappreciated meats, in our opinion, is a well-done chicken thigh. Grilled correctly, this meat is tender and flavorful and pairs perfectly with a variety of sides.
An additional benefit of chicken thighs is that pound-for-pound, you can buy the meat for a third of the cost of what wings would cost.
Grilling Is About Award-Winning Rubs For Your Tastebuds
Our kitchen cabinets are stocked with hundreds of different spices and dry rubs to give our chicken thighs and other grilled meats a little something extra. Picking out the rub of the day can be a challenge with so many choices. Our favorites, not surprisingly, are our own rubs.
Our Sweet Mama rubs come in a variety of flavors that work for everyone's taste buds. The original is great for some people, and others prefer the added kick of the Bold flavor. The Bold packs a punchy kick of spices. We were super excited recently when one of our rubs was awarded an A for pairing perfectly with chicken!
Happy Valentine's Day to Our Kick Ash Family
Wherever you are in the country or in the world, we want to wish you a happy Valentine's Day. Thank you for sharing your love of grilling with us within the Kick Ash Crew community and elsewhere. You are what makes this community so special.
If you haven't yet, come on over to the Kick Ash Crew and meet grillers just like yourself. All levels of skill and experience are welcome! Post your ideas and your stories, and check out what your fellow grill masters have been up to.