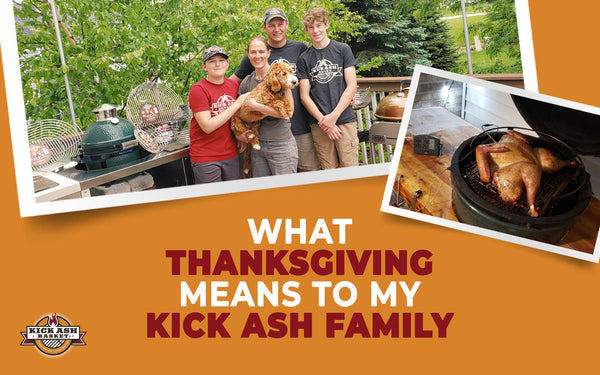 What Thanksgiving Means to My Kick Ash Family
Fall is in full swing, and the holiday season is just a few weeks away. Whether you celebrate holidays or not, the fall and winter seasons have a way of grounding us and reminding us of what's important.
Kick Ash Basket is a family business, and we include our Kick Ash community as a part of that family. With Thanksgiving just a few short weeks away, we thought we'd take a moment to catch up with Chad Romzek, founder of Kick Ash Basket, to talk about what Thanksgiving means to him and the Romzeks.
We've got grill-perfect appetizers, entrées, desserts, and even adult/kid beverages to get you thinking and expand your family's traditional Thanksgiving menu. The pulled pork mac and cheese and smoked pumpkin pie are our favorite recipes on the menu, and we'd love for you to share them with your family this year.
As always, post pictures of your meal in our members-only community, the Kick Ash Crew Facebook Group. Join now for all the exclusive deals and grilling content you can handle, plus a pretty Kick Ash community of BBQ lovers just like you!
Okay, now onto the interview with Chad Romzek, founder of Kick Ash Basket:
What's your favorite part of the Thanksgiving holiday?
Getting together with family, absolutely! It's pretty straightforward, really, we just love that.
Does your family have any Thanksgiving traditions?
Sure! Of course cooking is a big part of it, but we also love to get outside. Oh! And we play a game every year, too. I don't really know what you'd call it—"Turkey Tag," maybe? You put your name on a turkey-shaped name tag when you arrive; then, all day if you hear someone say the word "turkey," you can call them out and claim their name tag. Whoever has the most tags by, say, dinnertime, wins. They get the wishbone or whatever the prize might be that year. The loser, or the person with the fewest tags, gets to do dishes.
As for the setting, we alternate between my parents' house and Tracy's parents' house every year. Everyone comes in on the day before Thanksgiving, so the holiday actually starts on Wednesday for us. There are usually about 18 of us, so that's one of the reasons we have a turkey competition (yields 2 turkeys and a friendly family competition)...
Every other year I compete with Tracy's mom in a Turkey cook off. That's been a really fun tradition. She'll do a turkey in the oven and I'll do a turkey on the grill. I'll just say that the grilled turkey disappears first and leave it at that.
If you haven't grilled a turkey on Thanksgiving, this is definitely the year to give it a try! This guide goes over some Kick Ash Thanksgiving Dinner recipes and includes grilled turkey. Enjoy!
We've fried turkeys before, too, especially when we were living out in Washington. That was another really fun thing we used to do together. One year we cooked something like five turkeys. We deep fried them all, and everyone kind of had their own rub recipe or special touch. There were so many leftovers to share! Turkey quesadillas, turkey nachos, turkey sandwiches… you name it.
What about Thanksgiving side dishes and desserts?
We're big on homemade cranberry sauce. Tracy's sister makes it best; it's orange and cranberries, and we try to buy local. There are pretty big cranberry farms here in Wisconsin. In fact, we use a lot of veggies from our own garden, too. Green beans, squash, and potatoes are usually on the menu.
We love dressing, too! Tracy's family has a great recipe that has sausage in it. We make some of it stuffed in the oven turkey and some we just bake in the oven alongside it. Homemade turkey gravy and green bean casserole are two more must-haves.
As for the desserts, we always love having homemade pumpkin and pecan pies. Tracy's mom is the resident pastry chef, so she makes those. When my family is in town, my mom brings homemade apple pie and I bake it on the grill which is fantastic.
Check out some other Kick Ash Thanksgiving side dishes in our "Best Thanksgiving Sides for Grilling Fanatics" blog post!
Do you have any tips for first-time Thanksgiving grillers?
Oh wow, that's a tough one. I'd have to say just keep it simple. If you've never tried to grill for a large group of people, don't try to tackle everything at once. Grill your turkey or your honey ham and maybe a few cobs of corn. It's perfectly okay to make the rest in the kitchen if that's what you're used to!
There's a recipe I got out of Big Bob Gibson's Barbecue Book that's basically a Butterball Turkey on steroids. You use an aluminum pan and then you take two sticks of butter. You make the butter into a big ball that sits on top of the turkey. Cover it with tinfoil, cut a hole so the smoke can get in, and that's it—it literally bastes itself. It turns out awesome and even first-timers can perfect it.
What does Thanksgiving mean to your family?
I think it's almost perfect timing before the end of the year to sit back and think about the great blessings of the year before you get to the Christmas holiday. To step back, chill, and relax before you've got the chaos of the end of the year.
Basically time with family and friends, that's what we love about Thanksgiving.
Kick Ash Family, Share Your Thanksgiving Traditions!
We think a lot of you can relate to Chad's thoughts about the Thanksgiving holiday, but we want to hear your traditions! Come on over to the Kick Ash Crew and join our members-only community. Share your favorite holiday foods, post pictures of your grilling successes, or just let us know what you're thankful for!