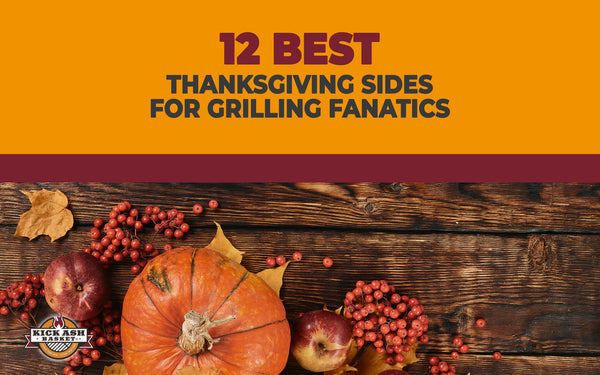 12 Best Thanksgiving Sides for Grilling Fanatics
Thanksgiving is all about friends, family, football and food. How does your Kick Ash Family feast in November of each year? Do you roast a turkey? Grill a Kick Ash rack of ribs? Or do you sit back and let your guests bring the holiday fare?
Whatever your choice of the main course may be, one aspect of the Thanksgiving table is often overlooked: those scrumptious sides. There are holiday classics, sure, like mashed potatoes and green beans; but this year, why not shake things up a little with sides you've never sampled?
We've put together a list of our favorite Thanksgiving side dish recipes—some are standard and some may be a little out of your comfort zone. Pick and choose the ones you love and make this Thanksgiving feast one for the history/family photo books!
The Classics
Mashed Potatoes

Green Bean Casserole

Cranberry Sauce

Dressing

Sweet Potato Casserole
New Traditions
Grilled Cauliflower

Deviled Eggs

Grilled Acorn Squash

Grilled Corn

Pumpkin Cheddar Scalloped Potatoes
For the Kids
Crinkly Carrot Fries

Spaghetti Squash

The Classics
All across America, you'll see some standard fare on holiday tables. There's nothing wrong with sticking to the classics, but why not add a little kick to each of your traditional sides?
Mashed Potatoes
Add a bit of cayenne pepper to your mashed potatoes to give them a nice heat. Alternatively, you can mash a few parsnips along with your potatoes. This will give them a flavor profile no one at your gathering has tried before—and they'll love it. A dollop of sour cream lends a creaminess you'll adore.
Green Bean Casserole
If you grew up stateside, there's a good chance you've tasted the traditional Campbell's soup recipe for Green Bean Casserole. You can (and should) play around with this recipe, by adding bacon, chives, or even almonds for a bit of crunch!
Cranberry Sauce
Cranberry sauce is supposed to be a garnish, but we think it's a side dish on its own. You don't have to stick with the sauce-in-a-can, though. Making cranberry sauce is as easy as reducing sugar, water, and berries in a saucepan on the stove. Add walnuts, orange peel, cinnamon, or apple chunks for a little extra pizzazz. 
Stuffing/Dressing
You may call it stuffing or you may call it dressing. Whatever you call it, it's a must-have for the holiday. Add some zest to your dressing by adding Mexican chorizo, star anise, chopped carrots, or even figs! Choose something that will compliment the savory flavor of stuffing while also adding a bit of texture. 
Sweet Potato Casserole
Admittedly, sweet potato casserole is divisive—you love it or you hate it. But you can add a twist to your taters by adding rosemary, sage, ginger, or even garlic to your potatoes. Your pickier family members may like the dish much more if it's more savory than sweet.

New Traditions
Looking to add some new traditions to your Thanksgiving meal? Try one of these party-pleasers this year. Use your imagination!
Grilled Cauliflower
Even if you don't want to grill your main course this year, you can still fire up the coals. Grilling cauliflower adds a smokiness and a personality to the vegetable that you can't achieve by baking or roasting it. Cut your cauli into steaks, season with butter and Sweet Mama Original BBQ Rub, then grill it up! You can find simple grilling instructions at Allrecipes. 
Deviled Eggs
Deviled eggs rarely make it to the Thanksgiving table in most households. Just leave these babies out on the counter, or even in the fridge, and you'll find that your guests are "sneaking" them before dinner is served. It's simple, here's how it's done: hard boil eggs, then cut them in half lengthwise and scoop out the yolks. Add butter or sour cream, salt, paprika, curry, mayo, white pepper and whatever else suits you (some families love adding bacon bits to their eggs). Pipe the mixture back into the halved eggs, and you've got a Thanksgiving treat ready to go!
Grilled Acorn Squash
Squashes are perfect for Thanksgiving, so why not grill up a few acorn squash? Slice up your squash and season with salt, pepper and garlic. Toss them on the grill for about 20 minutes, then drizzle with honey. You can find the complete instructions over at Katie's Cucina. 
Grilled Corn
We've provided you with complete instructions on how to grill corn on the cob. This veggie treat makes a great addition to your Thanksgiving menu. Head on over to our blog post to find the recipe for Grilled Corn on the Cob, but feel free to experiment with flavors and seasonings like the ones found in our very own variety pack! Rub in that Kick Ash flavor with Kick Ash Rubs!
Pumpkin Cheddar Scalloped Potatoes
Good heavens, these are so good. Who wouldn't love the rich profiles of pumpkin and cheddar added to America's favorite Thanksgiving side? These potatoes are creamy and delicious and perfect alongside your holiday leftovers. Don't go light on the garlic—it really makes a difference in the dish!

For the Kids
Most families have quite a few kids around come Thanksgiving, and it's so easy to forget that those kiddos have different palates than we adults do. These Thanksgiving side dishes will make the smallest of your family members quite happy over at the kids' table.
Crinkly Carrot Fries
What child doesn't love a good French fry? These Crinkly Carrot Fries are a healthier substitute for the potato variety, and they'll be well-loved by the kids and the adults at your gathering. Serve them with ketchup or ranch for the kids; the adults will love them with ginger dressing!
Spaghetti Squash
Spaghetti isn't necessarily a traditional Thanksgiving side, but kids love it. Spaghetti squash has the same texture as pasta, and it can be dressed the same way. You can find a recipe for this vegetable-in-disguise at Parents, or learn how to grill the gourd over at Miss in the Kitchen. It's great tossed with butter and garlic or served with marinara sauce. 
Don't Put Sides to the Side
Your pride and joy may be the ham or the sort steak you're serving up for Thanksgiving this year, but don't forget about the side dishes! With a bit of creativity, your sides can absolutely steal the show!
Don't forget to share your Thanksgiving menu with the Kick Ash Crew, our members-only community for grill masters of all levels of expertise. Post your pictures and your questions, and get to know other grillers just like you. From my family to yours, Happy Thanksgiving!