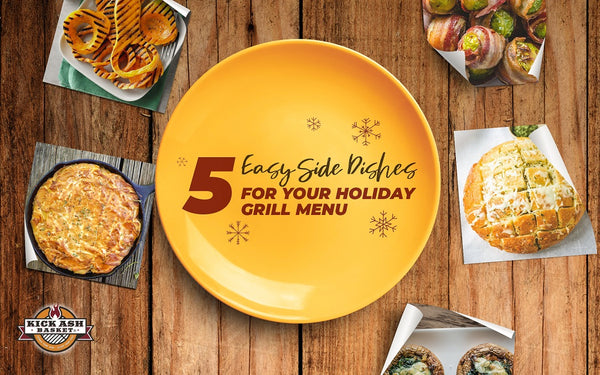 5 Easy Side Dishes for Your Holiday Grill Menu
Are you a fan of holiday grilling? Can't get enough of that smoky, rich flavor of the charcoal paired with sweet veggies and velvety cheese? Then this article is for you! We're giving you five of the easiest holiday grilled side dishes that will make your winter feast simple, delectable, and divine.
Have you seen our holiday grill menu yet, complete with appetizers and entrees? Check it out to find the protein for your holiday table that will pair perfectly with these easy, fast, and delicious sides!
1. Grilled Squash
This is a simple, quick recipe that requires a little bit of elbow grease since squash can be hard to cut. It's definitely worth the extra effort, though. Squashes are a delicious winter vegetable that remind us of the holidays, and they're naturally sweet, especially when grilled to perfection. Plus, squashes are chock full of nutrients (including immune-boosting vitamins), so it adds some health to your holiday grilled side dishes.
Psst… Pair this recipe with grilled carrots and sweet potatoes for a nutritious dish that will be impossible to pass up. You can also use this recipe and cooking method to grill up these other hearty veggies to create a mix that will delight those around your table.
Ingredients:
1 butternut squash, pumpkin, or acorn squash (for larger families, use multiple squashes)
1/2 tablespoon olive oil
Salt and pepper, to taste
Cinnamon, to taste
Directions:
1. Preheat the grill to medium heat, about 350 degrees F.
2. Remove the rind of the squash with a sharp paring knife.
3. To make the squash easier to cut, microwave it for 2-4 minutes. The spot on which the squash rests while microwaving will get soft and make it easier for you to cut into.
4. Cut the squash into 1/2" thick rounds.
5. Remove all seeds and pulp. Discard.
6. Brush the inside of the squash with olive oil. Sprinkle with salt and pepper.
7. Grill the squash rounds directly on the grates. Cook for 6-10 minutes, until charred and tender.
8. Remove from the grill and serve warm with a seasoning of your choice. For our holiday grill menu, we like adding other grilled veggies and sprinkling on some ground cinnamon, nutmeg, and clove (it'll taste like dessert!).
Cooking in winter weather? Learn how to grill on a windy day here.
2. Smoked Scalloped Potatoes
This recipe includes hearty potatoes with a decadent cheesy crust that's the perfect comfort side dish to add to your holiday grill menu. Seriously, this one is a no brainer to please anyone and everyone for your feast.
Note: You'll need a cast iron skillet for this recipe.
Ingredients:
8 potatoes
1 stick of butter
1 medium yellow onion
Smoked gouda cheese, sliced
Salt and pepper
Seasoning (recommended:

 

Sweet Mama Original)
Sweetened condensed milk
Shredded Cheddar Jack or Colby Jack cheese
These cheeses are just a suggestion—you can use any cheese that you fancy, like cheddar, mozzarella, feta, etc. Learn how to properly select a cheese with this guide.
Directions:
1. Preheat your grill to medium-high heat, about 350 degrees F.
2. While that's preheating, peel your potatoes and cut into 1/4" slices. Add potatoes to a pot and fill with water until they are covered. Bring to a boil and continue to boil for 2-3 minutes to cook the potatoes through. They should be slightly soft, but not mushy.
3. Use a slotted spoon to safely lift out the potato slices and drain. The potatoes shouldn't be totally dry. A little water from the pot is okay to add moisture to the dish.
4. In your cast iron skillet, start with a layer of potatoes. Add a second layer of sliced onion, salt, pepper, and any other seasonings. We use the Sweet Mama Original to add a nice kick. Drizzle sweetened condensed milk and add half a stick of butter, cut into thin pats. Next, add a layer of sliced smoked gouda. You can purchase this or grill it yourself a few days prior.
5. Repeat the same process for a second tier of potatoes, dressings, and cheese. Top with your shredded cheese.
6. Put your cast iron skillet on direct heat on the grill for about one hour. The potatoes should be soft and tender.
7. For the last 10-15 minutes, crank the heat on your grill to about 425 degrees F. This will give a golden-brown cheese crust that adds a velvety crunch to the dish. Using your Kick Ash Basket is an easy way to hold your charcoal, so you get optimal air flow and better temperature control when you need to crank up the heat.
8. Remove the cast iron carefully (it will be really hot) and serve warm. Grab your Kick Ash Basket Hot Gloves to keep you safe.
3. Cheesy Garlic Pull-Apart Bread
If you love cheese as much as we do, here's another cheesy side dish that the whole family will love. Yup, even the pickiest of eaters won't be able to resist this pull-apart garlic bread. Plus, if you're on a holiday budget,this is a low-cost, high-reward side dish that packs a punch.
Ingredients:
1 loaf sourdough bread (round)
2 1/2 tbsp salted butter
1 clove garlic, grated
1 tsp red pepper flakes
Sea salt, to taste
1/4 cup parsley, minced
8 oz Fontina cheese (or other cheese of your choosing)
Grated Parmesan cheese
Directions:
1. Preheat your oven to medium heat, about 300 degrees F.
2. In a small bowl, add softened butter, grated garlic clove, red pepper flakes, a pinch of sea salt, and chopped parsley. Mix until blended and creamy.
3. With a serrated bread knife, cut criss-cross slices into the bread. You want to make 1-inch size squares. Slice going one way and then the other to create the little diamonds. Don't cut through all the way to the bottom of the loaf.
4. Use a butter knife or gentle pouring skills to layer the butter mixture into the grooves of the sliced bread.
5. Slice the Fontina cheese into thin slices. Put one slice in each bread opening. It will melt while cooking, so it doesn't have to look perfect now.
6. Place the bread on a sheet of aluminum foil and wrap tightly. Place on grill grates for 10 minutes of direct heat.
7. Remove the foil and grill directly on grates for 2-3 more minutes, until the bread crust is golden and the cheese is bubbly and oozing.
8. Remove from the grill, sprinkle with parsley leaves, Parmesan cheese, and any other garnishes you like. Serve and enjoy!
Photo by Nathan Lemon on Unsplash
4. Bacon-Wrapped Brussels Sprouts
You didn't think we'd give you a list of dishes without including bacon somewhere, did you? This bacon-wrapped brussels sprouts recipe is so simple and fast but such a crowd pleaser. Whip it up while everything else on your holiday grill menu is being served and you'll have a last-minute side dish that's hard to beat. You can use this recipe to wrap just about any durable veggie in bacon, but we've chosen brussels sprouts because they're in-season during the winter.
Ingredients:
16 brussels sprouts (adjust recipe according to serving size)
8 slices low-sodium bacon, cut in half
1 tbsp extra virgin olive oil
1/3 cup low-sodium soy sauce
1/4 tsp pepper
1/4 tsp garlic powder
Skewers (soaked in water according to package instructions to prevent splintering)
Directions:
1. In a small bowl, whisk together olive oil, soy sauce, pepper, and garlic powder. You can also add other seasonings if you'd like, based on the other flavors on your table. This will be the marinade for your sprouts.
2. Slice the brussels sprouts in half, lengthwise. Place in marinade, cover, and let soak for 20 minutes.
3. Preheat your grill to medium heat, about 350 degrees F.
4. Get your soaked skewers. Put one piece of bacon through the skewer, unfolded. Next, add a halved brussels sprout. Fold the bacon over the brussels sprout and attach the other side to the skewer. Repeat with about three more sprouts, or however many will fit on the skewer. It should look like one half slice of bacon is wrapped around each sprout.
5. Place the skewers directly on the grill grates over the fire (direct heat). Grill for 5 minutes. Flip. Grill an additional 4-5 minutes until sprouts are charred and bacon is crispy.
6. Remove the skewers. You can serve as kabobs or remove each sprout and serve individually.
Learn how to assemble and cook kebabs here. Kebabs are a fast and easy way to pair your favorite meat and veggies,and they work for summer BBQs and winter bashes alike!
If you don't want to use kabobs, you can simply wrap a slice of bacon around each sprout and hold it in place with a toothpick.
5. Stuffed Portobello Mushrooms
This side dish could be a meal in itself! The portobello mushrooms become a bowl for chorizo, bacon, sweet peppers, and cheese in an irresistible bite that has us wanting more.
Ingredients:
1/2 pound chorizo (or spicy pork sausage)
10 bacon strips, diced
1 large sweet red pepper, finely chopped
1 medium onion, finely chopped
2 garlic cloves, minced
1/4 tsp red pepper flakes
1/8 tsp cayenne pepper
1/2 cup grated Parmesan cheese
6 large portobello mushrooms, about 4-4 ½ inches
Directions:
1. In a large skillet, cook the chorizo and bacon on medium heat for about 10 minutes, until chorizo is fully cooked and bacon is crispy. Remove and drain on paper towels. Reserve about 1 tbsp of fat drippings in the pan and discard the rest of the bacon fat.(We'll be using the same pan for the next step to retain the flavor.)
2. Add pepper and onion to the bacon drippings in the pan. Cook over medium-high direct heat for 3-5 minutes, until tender. Stir occasionally to prevent burning.
3. Add garlic, red pepper flakes, and cayenne pepper. Cook for an additional 30 seconds.
4. In a large bowl, combine the cooked chorizo and bacon, cooked veggies, and the Parmesan cheese. Set aside.
5. Remove and discard the stems from the portobello mushrooms. Scrape and remove the gills from the mushrooms.
6. Fill the caps of the mushrooms with the meat, veggie, and cheese stuffing.
7. You can wrap the mushrooms in aluminum foil, but they might get a little soggy this way. We like to put the mushrooms right on the grates, stuffing side up.
8. Cover the grill and cook for 8-10 minutes, until mushrooms are tender.
9. When removing the mushrooms from the grill, use heat resistant gloves to make sure you don't burn your fingers. Serve immediately or keep warm until ready to serve.
Holiday Grill Menu Feast
What's on your holiday grill menu? Got any holiday grilling tips and tricks to share? Let us know your secrets for a delicious grilled feast!