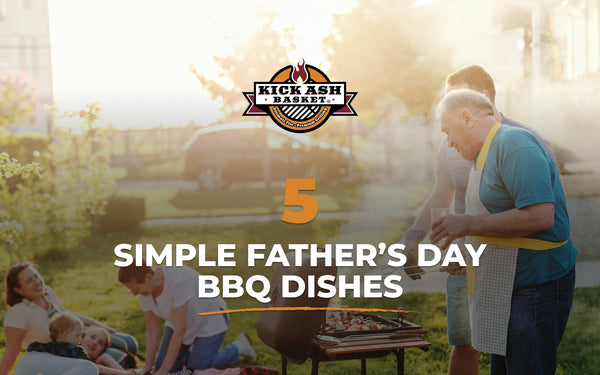 5 Simple Father's Day BBQ Dishes
If you are tired of giving your dad the same old tired tie for Father's Day that timely gets shoved into the back of one of his drawers, this may be the year to think outside of the box for the perfect Father's Day gift. 
What could be better than curating the perfect barbecue dinner for him? Of course, most people love barbecue food, including classics like the expertly flipped burger and high-end brats and hot dogs. But, these foods are just the tip of the culinary iceberg. Below we highlight five other simple-yet-overlooked options for the barbecue. Don't forget that one of the other great parts of this barbecue is that it allows you to share time and memories with your dad as you light up the grill! 
Tasty, Less Traditional Barbecue Choices for a Special Occasion
Sometimes we have a tendency to fall into a barbecue rut because it is so easy to grill up the perfect wings or burgers. However, there are lots of less traditional choices that can transform your ordinary meal into a special occasion-worthy feast. 
#1 Sweet Potatoes
Sweet potatoes are one of the overlooked stars of a barbecue menu, and as an added benefit, they pack far more nutrients than a traditional baked potato. First, we recommend brushing a flavorful herb butter on the jacket of the potato to get a delectably crispy skin. After that, add on or provide numerous toppings depending on your guests' preference palate. 
#2 Pork and Pineapple Skewers 
Pork is often underutilized on barbecue menus. There seems to be a misconception that it is hard to get the char and temperature just right on pork. But practice makes perfect, and skewers are a low-risk way to get your pork just right. We love adding pineapple skewers between the pork pieces because nothing rivals the tangy flavor of charred pineapple. As an added benefit, this adds moisture to the entire skewer if you slightly overdo your pork. 
#3 Juicy Lucy Burgers
We all love hamburgers and cheeseburgers, but sometimes, it is easy to get tired of this classic — even if you have spent time switching out your favorite cheese toppings. We have been experimenting with different cheeses this spring and love the melt that both muenster and havarti cheese have to offer. 
The Juicy Lucy is a way to give your tried and true burger a new flavor punch, and perfecting this delicious dish is actually pretty easy. All you need to do is fold your cheese slices in between two patties. This means that the gooey goodness of the cheese is lurking inside that first bite of the burger. Traditionally, Juicy Lucy is made with American cheese, but you can try different cheeses. Truly, the sky's the limit with your imagination. However, remember that some cheeses have better meltability than others. In fact, if you are interested, there is an entire science of cheese melting. 
#4 Thai-styled Cauliflower Steaks
For years, cauliflower has been declared a vegetable that does not pack a lot of punch, but the reality is dramatically different. Done correctly on the grill, it can be a tender and flavorful option for both your vegetarian guests as well as for the meat lovers in the crowd. One of the keys to the perfect grilled cauliflower steak is mastering the art of cutting the cauliflower. You want to make sure that you are slicing your cauliflower vertically with the stem down. You should also aim for one-inch slices that offer the perfect combination of delicately charred on the outside and tender on the inside. Don't worry if your knife skills are not perfect. The char and the sauce will cover up any slight imperfections. 
#5 Flank Steak with Bleu Cheese Butter 
Long gone are the days when only ribeyes and porterhouse steaks were featured on grills. Over the years, the number of great cuts of meat available at your local grocery store or butcher has dramatically expanded. One of these great cuts is the flank steak. Flank steak is a very flavorful cut of meat, but it is also extremely lean. This means that you need to watch its temperature carefully. 
One of the best tricks that we have ever heard for getting a perfectly cooked flank steak is to make sure to always cut across the grain. Also, make sure that your cuts are very thin. Again, practice will make perfect here. Also, the bleu cheese butter, along with the honey marinade, in this recipe will add back in any of the moisture that you might have lost during the grilling process. The great news is that this recipe is super easy to follow and does not take a lot of time, so it will give you more time to chat with your dad on his special day. 
Join the Kick Ash Crew on Facebook
If these tips for a great Father's Day BBQ food got your mouth watering and your stomach rumbling, join our exclusive members-only barbecue community on Facebook. We love to share crew-exclusive giveaways, deals, tips and tricks, and bring the barbecue family closer together. The Crew is our favorite place to be on social media, and there's always room for one more.