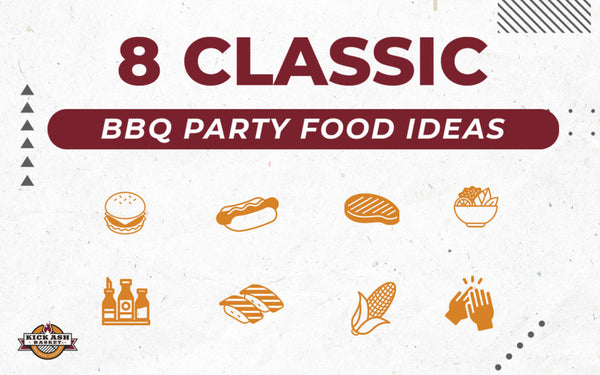 8 Classic BBQ Party Food Ideas
Table of Contents:
Hamburgers: Flip Less and Add Flavor

Hot Dogs and Brats: Buy the Very Best

Condiments Add a Special Punch

Seafood Is a Delicious Grill Choice

You Can't Go Wrong With A Delicious Steak

Grilling Is Not Just for Carnivores

Corn Is a Delicious Grilled Side

Don't Forget About Other Crowd Pleasers 
BBQs are a classic staple of Americana, bringing family and friends together. Almost everyone has fond memories of fun summer backyard parties, enjoying food straight off the grill, washed down with a soda and a slice of watermelon for dessert. 
You probably already know what some of your BBQ favorites are, but that doesn't mean you can't expand your backyard party food menu repertoire. So if you want to impress even the pickiest eaters during your next backyard BBQ, check out our Top 8 Kick Ash BBQ party food ideas below. 
8 Must-Have BBQ Party Food Ideas  
A backyard BBQ just wouldn't be the same without some of the classic BBQ party foods. You know the ones we're talking about—staples like hot dogs, bratwurst, and burgers are what make a BBQ, well, a barbeque. Even these classic grilling food ideas can be punched up if you are willing to embrace some new BBQ tips.
#1 Hamburgers: Flip
Less
and Add Flavor 
Hamburgers probably top the BBQ party food list and are one of the easiest foods to fix if you are a BBQ newbie. In fact, the less that you fuss with the hamburgers, the better they tend to turn out. Most grill masters will tell you that the number one error people make is flipping their burgers too much. Therefore, leave those burgers alone so they can cook just right. 
Bonus tip: If you really want to take it up a notch and add some flavor to your burgers that'll leave your friends asking for more, add some oak barrel smoking wood to your cook. 
#2 Hot Dogs and Brats: Buy the Very Best
Hot dogs and bratwurst are relatively easy to cook too. Make sure that you buy the best quality of meat that you can afford. Often this means making a trip to your local butchers or farmers market.
Part of grilling the best dogs and brats on your block is making sure that they are cooked to the right temperature. This means that you need to have a great meat thermometer. This thermometer takes the guesswork out of grilling and guarantees that your hot dogs hit the 250 to 325 degrees F range. 
#3 Condiments Add a Special Punch 
Don't forget the condiment station at your next BBQ. Fresh, great condiments like ketchup, mustard, and mayo can jazz up even the most generic dog or brat. However, these are not the only BBQ condiments that you should add to your list of BBQ party food ideas.  
Across the country, pickles are one of the number one condiments of choice; but don't just grab any kind of pickles. Instead, skip over the dill pickles and try out the gourmet ones. If you are really feeling adventurous, consider making your own pickles. The key to pickling cucumbers is to find the right cucumbers and have a healthy heaping of garlic on hand to add flavor. Trust us, your guests will never forget it if you get it right. Be patient, and make adjustments batch after batch until your desired flavor profiles shine through.
#4 Seafood Is a Delicious Grill Choice
Another great option is seafood, like salmon. The key to doing seafood on the grill is to make sure it doesn't dry out. What helps prevent this from happening is buying a high-quality piece of fish that still has its skin on. Always begin by grilling skin side down. While you are focusing on that side, make sure not to forget the other side. A subtle salt and pepper crust will maintain the fish´s delicate flavor without overwhelming it. Also, to get the best results, make sure that your charcoal is sizzling hot!
#5 You Can't Go Wrong With A Delicious Steak
If you really want to wow the carnivores at your backyard bash with a mouthwatering twist, then bring out the steak. However, before plopping a juicy t-bone on the grill, remember that steak is likely more expensive than other BBQ meat options. Plus, time is a factor too. Steak needs to rest for up to 10 minutes after it comes off the grill, although there is some culinary debate about the ideal resting time. This means that steak may not be the right choice if you are in a time crunch or you're looking to minimize the overall cost. 
Don't forget that different cuts of beef will give you different flavors and textures. Talking with your local butcher can guide you to the perfect cut of beef. A well-marbled flat iron steak is a personal favorite of ours. Plus, be sure to kick your flavor up a notch with our collection of Kick Ash Dry Rubs. Give our variety pack a try to find the one that makes your taste buds scream and your BBQ heart flutter.
#6 Grilling Is Not Just for Carnivores
When throwing a backyard BBQ, you can't forget about your friends who aren't fans of meat. You can appeal to their taste buds by throwing vegetables on the grill, like zucchini and asparagus. Just remember to oil the grill before throwing veggies on and, again, add some Kick Ash rubs to bring out a unique, delicious flavor. 
Asparagus can be tricky the first few times you try to grill it. One of the best tricks for getting top-notch asparagus is to take the time to lay your asparagus out perpendicular to the grates on the grill. Also, make sure not to over-grill it. It usually takes 6 - 8 minutes to get the perfect grill on. 
#7 Corn Is a Delicious Grilled Side
When you are planning out your classic BBQ sides, make sure not to overlook the classics, like corn-on-the-cob, especially when it is in season. If you have a big enough grill, the corn can be done straight on the grill. Make sure that you have plenty of butter to slather on it, plus sea salt for a flavor boost. 
Bonus tip: Remember that if you are grilling your corn in their husks, soaking it in water before popping it on the grill leads to a better char. 
#8 Don't Forget About Other Crowd Pleasers 
If you find yourself in a rush for time, here's another one you can add to your BBQ party food list: good ol' potato chips. Potato chips are a no-fuss-no-muss side dish that is sure to please both grown-ups and kids. 
For those of you with a sweet tooth, don't forget that there are some great grillable desserts. One of our favorite options during the summer months is grilled strawberry shortcake. During the winter, grilled donuts are a great accompaniment to hot chocolate. Depending on your family's preferences, you can add a wide range of different flavors to your grilled donuts.  
BBQ Party Food Ideas That'll Keep Your Guests Coming Back
Show your guests who the BBQ party food pro is during your next backyard shindig. But if you really want to take your classic grilling recipes up a notch, add the American-designed Kick Ash Basket to your grilling accessories stash! This temperature-regulating, stainless steel solution helps ensure that you get evenly cooked, flavorful BBQ every time you use your charcoal grill! As an added perk, the Kick Ash Basket makes your post-BBQ clean-up even easier. 
If you enjoyed this article, be sure to join the Kick Ash Crew, our members-only BBQ community on Facebook. Join now for exclusive deals and giveaways, Kick Ash recipes, burnin' hot BBQ discussion, and a community of like-minded folk who love grilling culture just as much as you do. There's always room for more in the Crew—join today!