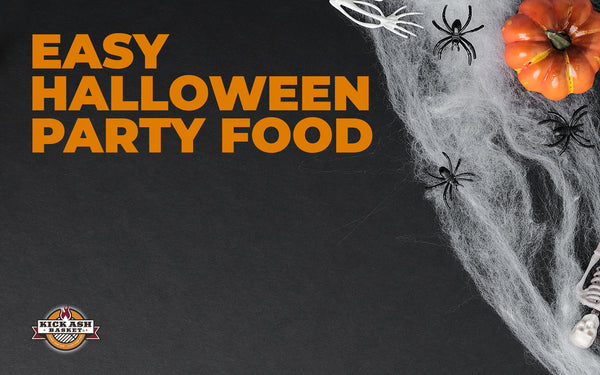 Easy Halloween Party Foods to Cook on the Grill
Minecraft characters and head door to door, collecting their favorite candy from neighbors. The teenagers may be up to no good, toilet papering the principal's house on top of other mischievous pranks.
What's an adult to do on a holiday like this? Sure, you're probably a little too old to go trick-or-treating with the little ones; but that doesn't mean grownups can't have a little backyard fun on the spookiest day of the year!
Grab your favorite brew, turn up the music, and fire up the grill. We've put together a few easy Halloween BBQ food ideas you can cook up quickly while you celebrate Halloween adult style.
Table of Contents:
Grilled rib cage

Halloween Foot Loaf

Halloween Grilled Veggies

Scary Grilled Cheese

Grilled Campfire Apples

Candy Corn Martini
Grilled Rib Cage
Credit to Weber for this recipe. They're among the top experts in grilling, and this recipe is one of the best we've tried. Use your imagination and don't be scared to add sausage organs and more!
Ingredients:
Red bell pepper (if desired)
2 full racks of baby back ribs
Sweet Mama Original BBQ Rub to taste
1 cup apple juice or cider
2 cups favorite BBQ sauce
Directions:
Heat grill to a high temperature (450 to 550 degrees).
If you're making a red pepper heart, grill the pepper over direct heat. The pepper should be black, blistered, and soft. Remove seeds and set aside.
Reduce grill temperature to medium low heat (250 to 350 degrees).
With a knife, remove the membrane from each track of ribs. Season with Sweet Mama Original BBQ rub and let rest until meat reaches room temperature.
Add wood chips to grill, then place ribs bone-side down on grates. Cook until done, around 3 to 4 hours.
While meat cooks, spray with apple juice or cider. During the last 30 minutes, brush with BBQ sauce.
Remove from the grill and let rest for 10 minutes. Cut racks into individual ribs, then arrange meat-side down on a tray to resemble a skeleton's rib cage. Place red pepper heart, garnish ghoulishly, and serve hot.
Halloween Foot Loaf
Or hand loaf, or leg loaf, or whatever you like. You can even create an entire mummy using this grilled meatloaf recipe.
Ingredients:
2 pounds ground beef
1 egg
Salt and pepper to taste
3/4 cup ketchup
3/4 cup bread crumbs or crushed crackers
1/2 cup minced onion
Garlic powder to taste
BBQ sauce or spicy ketchup for basting
Directions:
Preheat the grill to 375. Mix all ingredients in a large bowl.
Shape meat mixture into the body part of your choosing - use your imagination!
Place your creation over direct heat, and cover loosely with foil. Grill for approximately 3 minutes each side.
Move to indirect heat and cook for 15 minutes or until the internal temperature reaches 160 degrees.
Decorate as you please - use spicy ketchup or BBQ sauce for blood, onions for toenails, or anything else you see fit!
Halloween Grilled Veggies
Use cookie cutters or your supreme knife skills to cut winter root veggies into the spooky shapes of your choice!
Ingredients:
Winter veggies of your choice (beets, sweet potatoes, potatoes, rutabaga, etc.)
Olive oil
Salt and pepper to taste
Directions:
Preheat the grill to 350 degrees.
Slice root vegetables uniformly, then cut into Halloween shapes. Parboil for 5 minutes, then remove from water and strain.
Combine in a large bowl and coat lightly with olive oil, salt, and pepper.
Grill over indirect heat until veggies are soft. Serve warm.
Scary Grilled Cheese
Super simple and quick, grilled cheese is a fan favorite for all ages.
Ingredients:
Butter
10 slices bread
5 slices American or cheddar cheese
Directions:
Preheat the grill to medium heat.
Brush softened butter on one side of each slice of bread.
Using a cookie cutter, cut bats, jack o lanterns or any other shape you choose from the center of 5 slices of bread.
Place cheese on the unbuttered side of bread, then assemble sandwiches.
Place sandwiches on the grill, paying attention not to allow cheese to drip.
Serve hot.
Grilled Campfire Apples
A fall favorite, this dessert is perfect for relaxing on a cool fall night with your friends.
Ingredients:
6 apples, sliced uniformly
1/2 cup melted butter
Cinnamon to taste
1/4 cup brown sugar
Directions:
Preheat the grill to medium heat.
In a large bowl, combine all ingredients, ensuring apples are covered in butter.
Separate into 6 foil packets, folding to seal.
Grill over indirect heat until the apples are soft, approximately 10 minutes.
Serve warm.
Candy Corn Martini
Serve this drink as a cocktail or a mocktail.. it'll be a hit either way!
Ingredients:
Crushed ice
4 ounces whipped cream or vanilla flavored vodka for cocktail
4 ounces clear cream soda for mocktail
1 cup pineapple juice
2 tablespoons grenadine
Whipped cream for topping
Directions:
Fill martini shaker 1/4 full with ice
Pour in vodka (if cocktail) and pineapple juice.
Tighten lid, shake for 15 seconds.
Remove the strainer lid. If mocktail, add cream soda.
Pour into two martini glasses.
Measure 1 tablespoon grenadine, pour gently into each glass, then allow to sink to the bottom.
Top with whipped cream and serve.