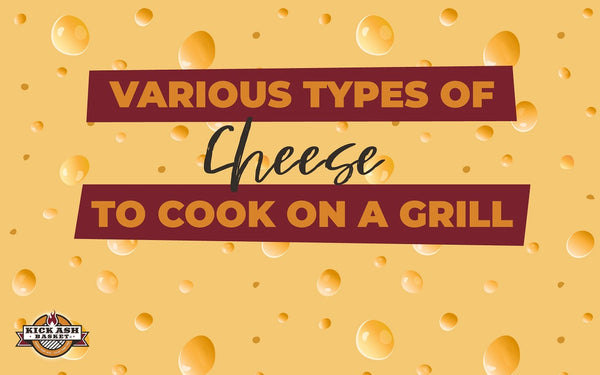 Various Types Of Cheese To Cook On A Grill
Cheese. The tasty, creamy, melty companion to all of your delicious grilled meats. To grill cheese on the grill is to pull all the ooey-gooey magic out of it and get the flavors to mix with everything else. Whether on burgers, bread, steaks, Philly cheesesteaks, or veggies—grill cheese and you'll take the other ingredients to new heights.
In this post, we're going to look at some tips for working more creamy goodness into your grilling recipes. And we'll finish by talking about a very grownup version of a childhood classic, the grilled cheese.
If you're making grilled cheese on the grill, a kick ash basket will help you maintain good coals with minimal cleaning. Check out our entire selection, or shop by grill if that makes it easier to find the basket that perfectly fits. The kick ash basket minimizes ash and maximizes the use time of your coals.
Grilling With Cheese
We've already discussed some of our favorite grilling recipes from all over the country. Cheese stands off to the side. It's not a barbecue essential, but there are plenty of great ways to get it into the grill rotation.

Grilling Just the Cheese

Sure, you don't actually need meat or vegetables to enjoy cheesy goodness. Halloumi cheese actually has a high melting point, so it can hold its shape even while you put it directly on the grates of the grill. It's a creamy, robust cheese made from sheep's milk. To grill it, slice it to about a half-inch thickness and brush it with a bit of olive oil. Serve with bread and meat, or by itself with a bit of lemon juice.

Most types of cheese you can grill can tolerate a few seconds on the grill to get them warm and a little bit melted. If you're taking on appetizers for a

 

perfect backyard barbecue, it's a great remix of a charcuterie board. Pair it with the

 

right meat and the right wine

 

and it's a meal in itself.

Cheeseburgers

There's an art to landing the cheese on the burger. Put the cheese on too soon, and it reduces to a rubbery mess without the cool bite. Put the cheese on too late, and it won't melt to perfection. The trick to the perfect cheeseburger is to toss the cheese on top immediately after you take the burger off the grill, and then to put a dome over the top of the burger to trap in heat. You could use a metal bowl or even a piece of aluminum foil in a pinch. If it's small enough, the heat will stay in the bowl and melt the cheese just right as the burger rests.

Jalapeno Poppers

Crust, mozzarella (or cream cheese!), and a gutted jalapeno. It's the perfect combination. While usually made in the oven, the smokey heat of a grill is also perfect for these poppers. The best way to get them to stay on the grill is to use large jalapenos and make sure that they are sealed properly with the mozzarella mixture. Because the grill will melt the cheese quickly, wrapping them in bacon or prosciutto is a great way to keep everything intact.

Skewers

Yep, you can actually just toss blocks of cheese onto skewers to grill them right up. Remember that cheese will melt quickly and so only pair it with something that cooks equally quickly, like simple fruits and veggies. For example, basil, cherry tomatoes, strawberries, chunks of bread with olive oil, and other fruits will cook fairly quickly.

Cheese Curds

Cheese curds are made from coagulated milk which is heated so it forms liquid and solids. The liquids are the whey, which are separated out. The solids are the curds! Curds are then stacked and pressed to release moisture, then are salted. They also make a tasty grilling treat!

Looking for a great cheese curd recipe? Check out this video for some tips on grilling!



Perfect Grilling Cheeses
Halloumi is the famous grilling cheese, but there are other cheeses you can grill that take on extraordinary flavors from a trip to the grill.
If you don't mind stumbling into the further regions of cheese, take on the Caciocavallo Ragusano. It's a cow's milk cheese made in Sicily, which can be pan-fried or grilled to serve as an appetizer. It has a spicy flavor, going great with olive oil and herbs.
Also try out the queso panela, a Mexican grilling cheese which should be brushed with oil and grilled for only a minute or two on each side. It goes great by itself with a bit of salsa, or you can throw it into salads and tacos.
Grilled Cheese Ideas
Grill cheese and bread together, and you'll end up with the hearty, nostalgic classic: the grilled cheese. If you're longing for the flavors of childhood summer—or just want a new spin on a simple sandwich—the grilled cheese can be taken out of the pan and into the coals of your ceramic grill. Plus, it's a kid-friendly recipe.
What Cheese to Use for Grilled Cheese?
There are a lot of opinions about the right grilled cheese. It's a meal so simple that everyone seems to have their own idea of what makes it perfect. While a mild cheddar or classic American cheese makes a sharp, fresh sandwich, there are plenty of other good cheeses for grilling. 
Provolone, gruyere, and goat cheese are also excellent options. If you have a stronger wheat bread, you might even opt for a blue cheese to get a fantastic kick.
Perfect Grilled Cheese
To grill cheese and bread into the grilled cheese, you usually won't take it to the grill. But if you're looking for a new take, the grill is exactly where you should take it! Higher heats mean that your bread gets a nicer crust without completely turning to hard toast. The cheese will melt quickly, without reducing from extended exposure.
A perfect grilled cheese cooks for about 2-3 minutes on each side. The second side should cook for slightly less time than the first side to keep things even. Before grilling, spread some melted butter over the bread. Keep it thin and light, you don't want too much fat dripping down into the coals!
Best Bread For Grilled Cheese
If your basic wheat or white bread aren't doing it for you, there are a few other great options. Pullman bread still has the soft, light texture that white bread has but it is a little bit more robust. If you're throwing this on the grill, you can even shred a bit of cheese on the outside to get a crispy, cheesy crust.
Sourdough makes an awesome grilled cheese bread. Make sure it's really fresh so that it doesn't turn rock hard on the grill. Slice it a little bit thicker than you're expecting, that way the outside gets a nice crisp while the inside stays light and fluffy.
Ciabatta is another popular grilled cheese bread. It already has a nice crust to it, but nothing too thick that it can't take on extra crisp and flavor from the grill. Pair it with white cheese, and serve with a spicy aioli.
What to Put Inside Grilled Cheese
Grilled cheese is a great playground for all sorts of other flavors. Just add some meat and veggies, and you've got a panini. It can take on fruit, like apple slices, or even nuts, like walnut chunks. Dip it in aioli, drizzle it with salsa, and enjoy it however you like it.
Grilled cheese is great with a bit of grilled, shredded chicken inside. Start by grilling up a couple of chicken breasts. When they're done, just shred the chicken and toss it between bread with your cheese of choice. You can add avocado and bacon to complete the sandwich.