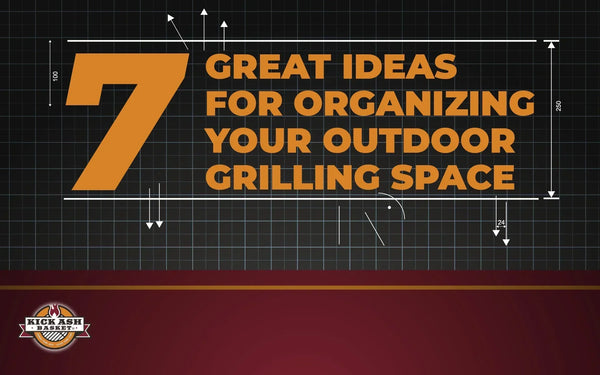 7 Great Ideas for Organizing Your Outdoor Grilling Space
We get it: you want your grill space to be both practical and attractive. Your outdoor grilling area should make your life as the Master Griller easy and streamlined, while also adding a nice aesthetic to your backyard. 
Whether you're organizing your outdoor grill space in your dream outdoor kitchen or a portable grill on your apartment's balcony, or even if you're looking to quickly organize your grill space at an away-game tailgate.  
Today we're giving you 7 outdoor grill ideas that will organize and optimize your cook.  

1. Put your grill in a safe spot. 
Grilling starts with… the grill! And not just finding your ideal type of grill, either (although that matters a lot, too). You also need to consider where your grill is placed on your patio or in your yard. Outdoor BBQ grills let off a lot of heat and smoke, so you don't want them too close to your house, overhangs, or enclosed spaces. Anything flammable should also be separated from your grill. 
Charcoal grills are our grill-of-choice for that deliciously-smoky, rich flavor, but they release a lot of smoke. So, you'll want to make sure you have plenty of room for ventilation without potentially causing a fire or damage to nearby items or structures. 
2. Clip on a grill light. 
The party doesn't have to stop at sunset. More and more people will be grilling outside this fall and winter to keep entertaining amidst social distancing. However, daylight savings doesn't care about COVID-19, so it's soon going to start getting darker earlier. Attach a grill light to your grill so that you can see where you're cooking and when the food is done. This keeps the griller and the guests safe by illuminating where the heat source is, while also making it easier to cook. 
If you have an electrical outlet nearby, you can plug in any light and direct it towards your grill. If not, no problem. We're fans of battery-powered LED lights that clip right on to the grill itself. Check out Amazon's best sellers in grill lights to find one that will work for you.
3. Invest in a grill cart. 
Grill carts add extra countertop and storage space to your grill area. These include prep carts directly attached to your grill as well as separate serving stations. Either way, these are an incredible tool to give you extra room to prep your food, store your grill accessories, and present serving items like trays, dishes, condiments, drinks, and more. A grill cart will save you lots of time and energy by not having to go in and out of the house in order to prep your food or to serve your guests when it's dinnertime. 
Learn everything you need to know about outdoor grill carts here.  

4. Put safety items nearby. 
Safety always has to come first— for you and for your family. We always make sure to prioritize storing safety items close to the grill, and then the rest of the layout can follow. Put a fire extinguisher in the storage of your grill cart or hang it on a wall nearby (safe from inclement weather, though). Even the most professional grillers have a flare up every once in a while, so you want to keep an extinguisher close by. Learn how to safely store a fire extinguisher with Firefighter Insider. 
We also highly recommend keeping heat resistant gloves next to or beneath your grill in your outdoor grilling space. These protect your hands from extreme temperatures, so you can say goodbye to grill burns on your forearms. We use heat resistant gloves to handle meats at high temperatures, but we also use them just for handling grilling tools and charcoal as well (grill tools heat up quickly, and you can end up with a bad burn if you forget to handle these with care). Kick Ash Heat Resistant Gloves have a flexible grip for ease and comfort, and they'll protect you up to 932 degrees Fahrenheit! 
Do you have a grill torch? If not, this JJ George Grill Torch will make lighting your charcoal faster, safer, and a lot more fun! 
5. Hang your grill tools. 
Your outdoor grill area should make grilling simple, so you want your grill tools easily and quickly accessible. If you purchase or construct a grill cart that connects to your grill, you'll probably want hooks on the side where you can hang your tools. This is a great place to let your tools safely rest while you're grilling, so they're never more than a reach away. 
We don't recommend storing your grill tools on these hooks for long periods of time, though, because they could get damaged in weather or wind. When storing grill tools, keep in mind that you want to clean them first and then let them dry. If they're wet and don't have circulating air, rust and grime can build up (which essentially renders your tools ineffective). You can store your grill tools in a separate "toolbox" or caddy in your grill cart, garage, or inside, wherever is easiest for you.
Another awesome option that lets your tools dry in storage is to hang them up indoors with a repurposed rake as the hooks. It has that farmhouse décor that your partner saw on HGTV, but it has a practical purpose, too. You can also make or purchase some unique BBQ tool holders, like this metal "good lookin' is cookin'" caddy.
Check out this complete list of grilling tools you do (and don't) need and learn how to perfectly store them in your outdoor grill area. 
6. Add a drawer or box for seasonings. 
You can never go wrong with a little spice, so keep your seasonings within reach. We recommend using matching baskets or trays to separate your different grilling gear, like tools, seasonings, rubs, sauces, plates, prep bowls, cutting boards, specialty items (e.g. a pizza stone or cast iron skillet), etc. You'll definitely want a box just for all your seasonings and rubs, because that's what gives your meats the unique and delicious flavors you crave. 
Want to add a delicious BBQ rub to your collection? If you love spice, you'll adore our Sweet Mama Bold BBQ Rub. Or check out the Original Sweet Mama Rub for that classic BBQ taste. 
Want to see the ultimate BBQ accessory you can buy? Check out Outdoor Mancave!

7. Create a cleanup area. 
This is the most overlooked part of organizing your outdoor grill area, but it's a must for safe and easy cleanup. One of the simplest outdoor grill ideas is just to keep a trashcan and cleaning tools near your grill. Cleaning before grilling and shortly after cooking will protect your grill and tools for years to come. So, let's make it easier on yourself by organizing your outdoor BBQ grill for cleanup as well.  
Put a designated "grill trash" nearby. This is where you can throw out trimmed off pieces of meat, extra prep items, etc. You can also use this trash can to dispose of charcoal ash wrapped in tin foil (or in another safe container, like a paint can), so make sure to keep it away from children and pets. 
Learn how to properly and safely clean a charcoal grill here.
Keep your grill brush nearby for scrubbing and scraping while the grill is still warm. You'll want to soak this and clean it after use too, so it doesn't get grimy. 
Paper towels should be kept nearby as well. You know how messy grilling gets, and a little swipe of a paper towel is all you need sometimes to make your grill area cleaner and safer. 
Check out more grilling safety tips here.
The easiest and safest way to clean your grill is with
Kick Ash Basket
products. 
Use our Basket to store your charcoal, and to afterward separate the ash with an easy shake (that way you can reuse the charcoal and get back to cooking). Even better, use the Kick Ash Can underneath your Basket to catch the ash, so you can just dispose of the gunk and keep cooking or cleaning— yes, it really can be that easy!

Find your grill from this list to check out the Kick Ash Basket products that will make your cooking and cleanup a breeze.