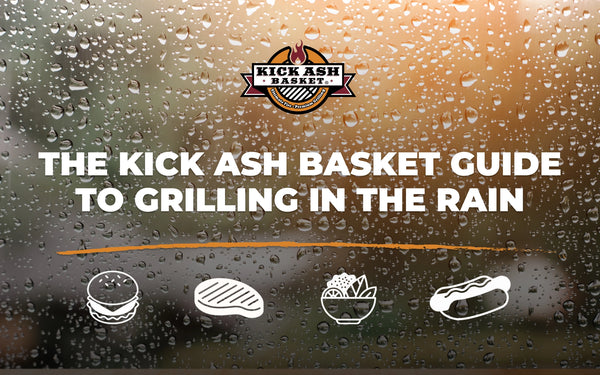 The Kick Ash Basket Guide to Grilling in the Rain
People tend to think of grilling as a fair-weather summer activity; but, is that always the case? Although this is often possible for people who live in climates like Florida and Southern California, it's not as easy for those who live in colder northern climates or the rainy Pacific Northwest. So, does this mean one must wait to start grilling until mid-summer or wait for a rare sunny day in those environments? Not exactly. 
The good news is that the answers to these questions are a resounding no. But is it safe to grill in the rain? Most experts agree that grilling in the rain is entirely safe, and it can even be super fun! The only caveat? You should always use a propane or charcoal grill in the rain, never an electric one. 

Can You Grill in the Rain? 
I can't remember a time when our family did not fully embrace our love of all things barbecue. Somewhere near the beginning of our family's journey, I'd question myself: can I grill in the rain? I wondered if it was safe and if my dishes would still turn out well since one of my favorite things about grilling is the consistency of meals. 
To be honest, one of my first thoughts was yuck. I couldn't imagine being soggy and miserable in a nasty rainstorm, so I began to think about potential workarounds. One of the first things I wondered was if there was a safe way to bring my propane grill inside out of the rain, but I shut that idea down quickly. This is definitely unsafe, and you run the risk of a gigantic explosion in your house. There's also a risk of carbon monoxide poisoning. So, I had to brainstorm harder about what I could do to make grilling in the rain an enjoyable and safe experience. 
Some Creative Ideas to Make Grilling in the Rain Fun 
Even if a freshly seared steak straight off the grill with delicious baked potatoes is your idea of the perfect meal, you probably don't want to get soggy in the process. There are ways to stay dry and still get great results. Below, we highlight some of these tricks. 
#1. Utilize Grill Covers
Even though an outdoor grill cover will not keep you or your grill dry while you are actually barbecuing, we think it is a must-have accessory for any aspiring grill master. A barbecue grill cover will protect your grill when it is sitting outside unused, and it will protect it from rusting. If you have a charcoal grill, we would definitely recommend that you look for a charcoal grill cover. When you are shopping for a new grill cover, don't forget to take the time to check out some of our other favorite 2022 grill accessories. 
#2. Consider A Grill Canopy 
Grill canopies are another potential trick to make barbecuing on a rainy day safe and pleasant. Grill canopies are marketed under many different names, including grill gazebos. These canopies are often quite large and cover not only your grill but other parts of your patio. Once your grill canopy is set up, you will likely want to leave it in place for the entire season. The great news is that these grill canopies also offer significant sun protection as we move into the hotter grilling months. 
#3. And, Finally, for the Budget-Conscious Griller 
Not everyone has a large budget for additional grilling accessories. So if you are shopping on a tight budget or you're in an area where you're less likely to deal with rainy day cookouts, then a grill umbrella could be a great option. Grilling umbrellas are also helpful if you have limited space on your patio since they are usually smaller than a full grill canopy or gazebo. The only downside of a grill umbrella is that they are often not as sturdy as gazebos and other options, particularly in heavy rain or wind. 
#4. Make Sure to Join the Kick Ash Crew
If you would like even more tips on making your barbecue meals a roaring success in even the most inclement weather, join our members-only community on Facebook, The Kick Ash Crew. 
Once you're in, you'll get to learn and share tips and tricks with other barbecue aficionados and hear about some of our community's favorite recipes. Plus, it's the only place for exclusive deals, giveaways, and more. Don't miss out. There's always room for more in the Crew, so join today! 

What Can You Do If None of These Options Work for You? 
If none of the options mentioned above work for you, or you find yourself on vacation with none of your usual accessories on hand, don't give up. There are other ways to successfully grill in the rain without getting drenched. One of the easiest things you can do is pre-cook your meat and side dishes in the oven inside the house and only throw them on the grill for the last few moments. Some experts even claim that the combination of pre-cooking and a humid environment will lead to juicier meat off the grill. 
Pro Tip: Don't forget to preheat your grill on rainy days. Rainy days often mean cold days, and meat is more likely to stick to the grill if you don't heat the grill up ahead of time.