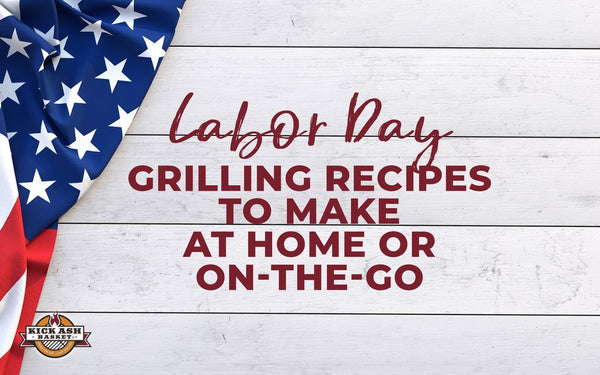 Labor Day Grilling Recipes to Make At Home or On-The-Go
Summer is almost over, and the hectic holidays are just around the corner. What better way to close out the warmer months than by hosting your own Labor Day backyard barbecue? 
Labor Day is observed on the first Monday of each September. But millions of Americans celebrate the holiday the whole weekend. Fireworks, picnics, long weekend getaways and, of course, cookouts mark the three-day weekend, allowing the American workforce to relax on the weekend that was created to honor their contributions. 
What are you doing this Labor Day weekend? Will you be heading to the lake house or staying home with family? Maybe you've scheduled a hike to your favorite fishing hole, where you'll camp for a few nights. 
Whatever your plans, Kick Ash Basket has got you covered. In this guide, we'll share 8 of our favorite grillable recipes for:
Beef

Chicken

Fish and seafood

Veggies
Beef Recipes
For some Americans, Labor Day grilling just wouldn't be complete without some sizzling beef on the coals. Here are 2 of our favorite beef recipes that will have your guests begging for more. 
Grilled Skirt Steak Fajitas
Everyone cooks burgers and hot dogs on Labor Day. Why not stand out from the crowd with these grilled skirt steak fajitas? The recipe calls for a cast iron skillet, but you can easily cook these beauties on the Original PK-Go Grill and Smoker. The cast iron cooking surface will work perfectly, and make your celebration simple to clean up. 
Ingredients:
For the marinade:
1/2 cup soy sauce

1/2 cup lime juice, from 6 to 8 limes

1/2 cup canola oil

1/4 cup packed brown sugar

1 tablespoon chili powder

3 medium cloves garlic, finely minced 

2 teaspoons ground cumin seed

2 teaspoons freshly ground black pepper

2 pounds trimmed skirt steak cut crosswise into 5- to 6-inch pieces
Additional ingredients:
Interchange as many as you like of the following:
1 large red pepper, cut into ½ inch strips

1 large yellow pepper, cut into ½ inch strips

1 large orange pepper, cut into ½ inch strips

1 white or yellow onion, cut into ½ inch strips
1. Combine the first 8 ingredients to create a marinade. Whisk in a bowl, then set aside a half cup in a separate bowl. 
2. Place steak slices in a large, gallon size resealable bag. Add marinade and close bag, squeezing out as much air as possible. 
3. Massage the meat gently, then place in the refrigerator, turning every two hours, for up to ten hours. 
4. While the steak marinates, place vegetables in a bowl and gently toss with the reserved marinade. Refrigerate until ready to cook. 
5. When ready to cook, light a grill with one chimney of charcoal. Arrange lit charcoal on one side of the charcoal grate and preheat for five minutes. 
6. Place a cast iron skillet on the cool side of the grill. Cook steak strips, covered, for 1 minute, then flip, cover, and cook for another minute. Internal temperature should reach 115 to 120 degrees.
7. Transfer cooked steaks to a serving plate, cover, and let rest for 10 minutes. 
8. While steak rests, move skillet to the hot side of the grill. Preheat 2 minutes, then cook vegetables for about 10 minutes or until soft. Transfer cooked vegetables to a warm serving plate. 
9. Thinly slice meat, then serve with tortillas, sour cream, guacamole and salsa. 
Honorable mention:
Dijon-Marinated Grilled Skirt Steak is a zesty and aromatic addition to any grill master's repertoire. This steak takes 30 minutes on the grill and features a no-fuss marinade that any chef can master. 
Chicken Recipes
Chicken is a classic dish around the world, and we wanted to share some of the best Labor Day grilling recipes using the bird. Tired of serving wings and drumsticks at your backyard celebrations? Check out these chicken recipes. 
Grilled Buffalo and Blue Cheese Chicken Sandwich
A tasty deviation from your classic buffalo wing, this sandwich is easy to prepare and oh-so-delicious. This recipe, too, can be cooked on the PK-Go Grill for easy cleanup and no-fuss grilling. And for those of you who prefer it, you can use Ranch instead of blue cheese and yogurt. 
Ingredients:
¼ cup crumbled blue cheese

½ cup Greek yogurt

Juice of ½ lemon

Salt and pepper

4 6-ounce chicken breasts

1 tablespoon Sweet Mama Original BBQ Rub

1 sliced red or white onion

3 tablespoons hot sauce (Texas Pete, Frank's, etc)

2 tablespoons melted butter
1. While preheating grill, combine blue cheese, yogurt and lemon juice. Add salt and pepper to taste. Stir and set aside. 
2. Season chicken breasts to taste with Kick Ash Sweet Mama Original BBQ Rub. 
3. Once grill is hot, add chicken to center of grill. Cook 4 to 5 minutes one side. 
4. Add onions to grill perimeter where chicken has not touched. Flip chicken, and cook for an additional 4 to 5 minutes, or until internal temperature of chicken reaches 165 degrees. 
5. While chicken cooks, combine melted butter and hot sauce. 
6. Remove chicken and onions from grill. Coat chicken with hot sauce mixture. 
7. Serve on bread with lettuce and tomato and top with blue cheese sauce or ranch dressing. 
Honorable mention:
If you want something with a kick this Labor Day, try this recipe for Spicy Chipotle Chicken Marinade. This recipe was formulated by a bona fide chuck wagon cook, so you know it's one of the best grill recipes for Labor Day – or any other day!
Fish and Seafood Recipes
We see you, Kick Ash Crew! You're a unique group of grillers, and not all of you may love cooking traditional grilling meats. For you seafood lovers, we've chosen two recipes that will get your mouth watering this Labor Day. Choose your favorite, then let us know which one you like best when you join our Facebook Group. 
Hawaiian Shrimp
This shrimp recipe is quick to prep and even quicker to cook on the grill. The seafood lovers on your Labor Day guest list will love you for serving up these skewered treats. Not interested in taking the time to skewer the ingredients? You guessed it – the PK-Go Griller and Cooker will come to your holiday aid. 
Ingredients:
2 pounds deveined and peeled medium shrimp

2 cans pineapple chunks in juice, juice reserved

½ pound bacon slices, cut into 2-inch pieces

2 chopped large red peppers

½ pound fresh whole mushrooms

2 cups cherry tomatoes

1 cup sweet and sour sauce
1. Preheat grill to high heat. Meanwhile, thread skewers with ingredients. Alternate shrimp and vegetables as you like. 
2. In a small bowl or measuring cup, combine sweet and sour sauce with reserved pineapple juice. 
3. Place skewers in a shallow dish or on a baking sheet and coat with sauce mixture. 
4. Cook skewered kebobs on the preheated grill for 6 to 8 minutes or until the shrimp is opaque. Lightly baste as your kebobs cook. 
Honorable mention:
If you're looking for a simple grilled seafood recipe that will feed a crowd this Labor Day, look no further than the Grilled Seafood Boil Foil Packets. The fun of these is in the preparation, and even the kids can help put together each packet. 
Grilled Vegetable Recipes
Grilled veggies aren't necessarily everyone's favorite, but it's good to round out a meaty meal with a few vegetables, just like mama said. If you've been following us a while, you already know how to perfectly grill corn on the cob. Here are a few other ideas for your Labor Day grilling. 
Grilled Vegetable Skewers
These skewers are great on their own, or you can make them as alternative option for the vegans on your guest list. Simple to make and quick to cook, you can season these grilled vegetable kebobs any way you like. 
Ingredients:
1 yellow squash

1 zucchini

8 ounces cremini mushrooms, stemmed

1 small red onion

1 red bell pepper

1 green bell pepper

1 ear fresh corn, cut into 1-inch rounds

Extra virgin olive oil, for drizzling

Sea salt and freshly ground black pepper

Dressing of your choice for serving
1.  Heat your grill to a medium heat. 
2. Cut each of your vegetables to a uniform size so that they will cook easily. 
3. Thread your veggies onto metal skewers, alternating each as you like. 
4. Drizzle with olive oil and sprinkle with the seasoning of your choice.
5. Grill for approximately 8 minutes, or until your veggies are tender. 
6. Serve hot with the dressing or sauce of your choice. 
Honorable mention:
Whether you want something to top your steak and burgers or just want to try a treat that's both sweet and savory, try this recipe for Grilled Onions. You really can't miss with this one. Try them drizzled with French dressing. 
Labor Day Should be Spent at the Grill
Whether you're celebrating the holiday at home, tailgating or headed out on vacation, Labor Day is meant to be spent at the grill. Try these mouthwatering bbq recipes out and let us know what you think of them in The Kick Ash Crew, our members only community on Facebook where we share Kick Ash recipes, exclusive deals, tips and tricks, and informative bbq discussion you can't find anywhere else. There's always room for one more in the Kick Ash Crew, and we'd love to share our exclusive content with you. See you there!